Spicy Miso Ramen with Crispy Seitan
Enjoy crispy seitan and roasted veggies atop spicy miso ramen for an effortless meal.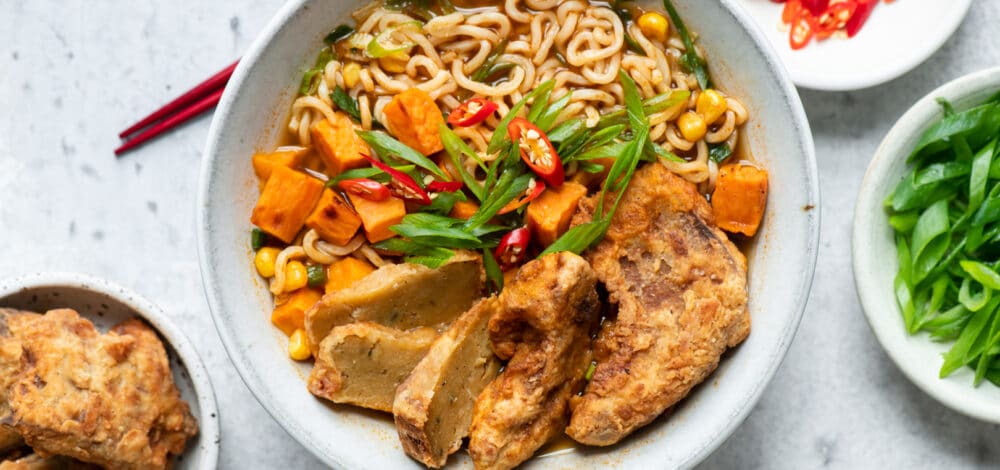 Recipe Serves
4
Minutes Prep
15
Minutes Cook
30
Total Minutes
45
Difficulty: easy
Ingredients
2 sweet potatoes, diced (or 2 cups roasted root vegetables of choice)
8 ounces Orange Seitan Roast (substitute other seitan or extra firm tofu)
¾ cups plain non-dairy milk
1 teaspoon white vinegar
½ cup all-purpose flour
¼ teaspoon salt
¼ teaspoon cayenne
4 packs Annie Chun's Spicy Miso Ramen Soup Bowls
4 cups boiling water
Sliced scallion greens, for garnish
Sliced chili peppers or chili oil (optional)
Method
Toss the cut sweet potatoes or root vegetables in 1 tablespoon oil and sprinkle with salt and pepper. Bake at 425ºF for 25-30 minutes or until tender, stirring halfway through.
Cut the seitan into 8 pieces, about 1½ inches x 1½ inches x ½ inch thick.
In a bowl combine the non-dairy milk and vinegar and let sit for 5-10 minutes to curdle and make buttermilk. On a plate mix together the flour, salt, and cayenne.
Dip each piece of seitan into the buttermilk, then the flour mixture, then repeat, dipping it a second time in the buttermilk followed by the flour.
Heat ½ inch of oil in a pan to 325-350ºF. If you do not have a thermometer, check the temperature by inserting a wooden spoon handle or wooden chopstick into the oil and when it bubbles around the handle, the oil is hot.
Fry the seitan in batches, about 4-6 minutes or until golden, flipping halfway through.
Empty the soup packet, vegetables packet, and noodles into each bowl (or one large serving bowl) and fill with 1 cup of boiling hot water (for a milder soup use 1 ½ cups water). Let sit for 2 minutes then stir together.
Top the noodle bowls with crispy seitan, roasted vegetables, and garnish with scallion greens and chilies to taste!