Teriyaki Veggie Skewers with Tofu Garlic Ginger Dip
The secret weapon in this summery dish is the creamy tofu garlic ginger dip. Blended smooth with silken tofu into a light and airy dairy-free dip.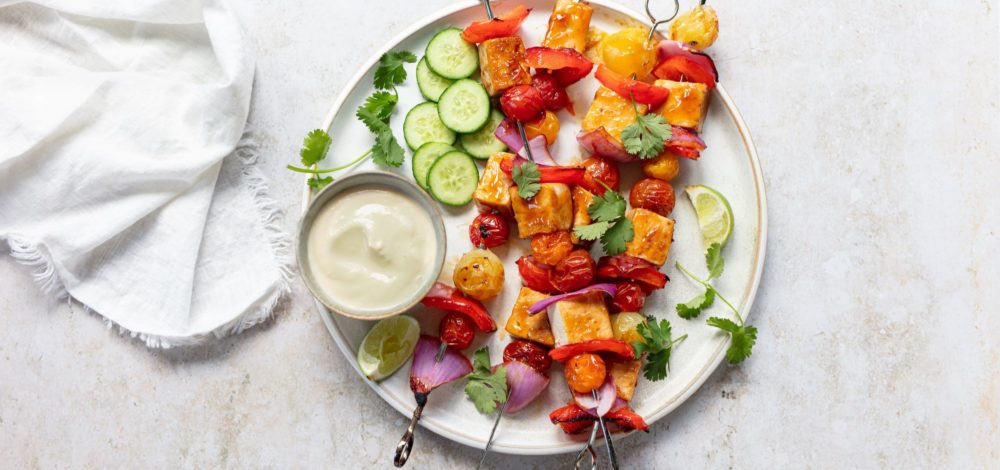 Recipe Serves
4
Minutes Prep
10
Minutes Cook
10
Total Minutes
20
Difficulty: easy
Ingredients
1 (14 ounce) block extra-firm tofu, drained and pressed, cut into 2-inch cubes
1 pint assorted color cherry tomatoes
1 red bell pepper, seeded and sliced into 2-inch pieces
½ red onion, sliced into 2-inch pieces
½ cup Annie Chun's Teriyaki Sauce
1 cup sliced cucumber
½ cup fresh cilantro leaves
4 ounces silken tofu
2 tablespoons fresh lime or lemon juice
2 tablespoons vegetable oil
1 tablespoon soy sauce
1 tablespoon cold water
1 teaspoon grated fresh ginger
1 clove garlic, minced
Method
Arrange oven racks 8-inches from heat source and heat a broiler to high. Line a rimmed baking pan with aluminum foil.
Thread the tofu, tomatoes, bell pepper, and onion onto skewers in an alternating pattern. Arrange on the baking pan.
Brush half of the teriyaki sauce over the skewers. Place under the broiler and broil until the tofu turns golden brown, about 5 minutes depending on your oven.
Flip the skewers over and brush with the remaining sauce. Broil another 3-5 minutes.
To make the sauce, add silken tofu, lime juice, vegetable oil, soy sauce, cold water, ginger, and garlic in a food processor or blender and puree until smooth and creamy, about 1 minute.
Serve the skewers on a platter with cucumber, cilantro leaves, and sauce on the side.
Recipe courtesy of Familystyle Food