Orange Seitan Roast
Need the perfect vegan centerpiece for the dinner table? Look no further and give this citrus-y orange seitan roast a try!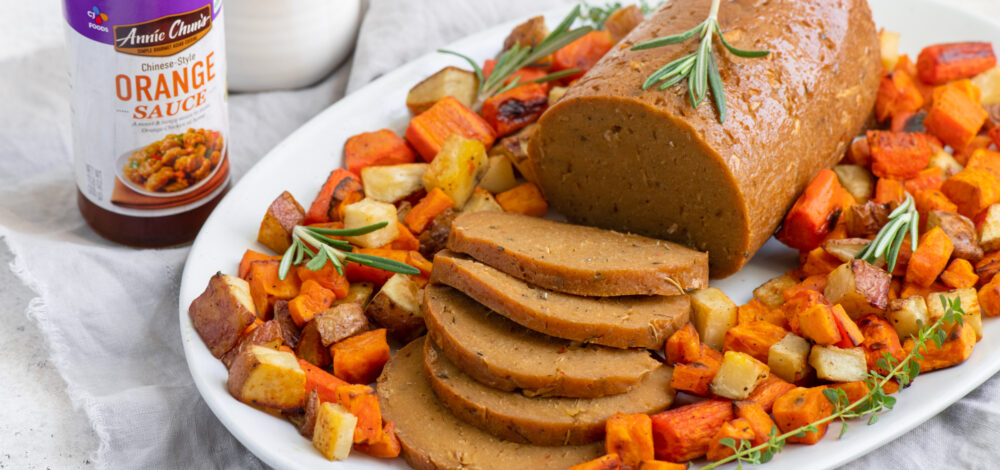 Recipe Serves
8
Minutes Prep
10
Minutes Cook
95
Total Minutes
105
Difficulty: medium
Ingredients
1 cup cannellini beans (sub other white beans), drained and rinsed
1 cup vegetable broth
½ cup Annie Chun's Chinese-Style Orange Sauce
2 tablespoons olive oil
1 tablespoon soy sauce
2 cloves garlic, minced
¼ cup nutritional yeast
1 teaspoon dried sage
½ teaspoon dried rosemary
½ teaspoon dried thyme
½ teaspoon salt
½ teaspoon black pepper
2½ cups vital wheat gluten
Method
Mash the beans in a large mixing bowl with your hands or a fork until they are creamy. Some partially un-smashed beans are ok.
Add the rest of the ingredients except for the wheat gluten and mix together until fairly smooth.
Add the wheat gluten and mix with a wooden spoon to bring together, then knead by hand for 2-3 minutes.
Cut a 12 inch long piece of aluminum foil and turn the dough out into the foil. Shape into a thick log, about 6-7 inches long and place about ⅓ from the bottom of the foil (parallel to the shorter end). Roll the foil then twist the ends like a candy wrapper to tightly seal the foil. Optional: wrap the seitan in parchment paper (not wax paper!) before rolling in foil.
Cook at in an Instant Pot or pressure cooker at high pressure for 35 minutes, and let the pressure naturally release for 15 minutes before releasing fully. Alternatively steam on the stove top in a pot fitted with a steamer for 1 hour.
During the pressure release or in the last 20 minutes of steaming, preheat the oven to 350ºF. Place the foil wrapped seitan roast on a baking sheet and bake for 40-45 minutes.
Let cool for at least 30 minutes before eating. If left wrapped in foil the seitan roast will stay warm for a couple hours.