Go-Chu-Jang Glazed Salmon with Asparagus
Sweet and savory with a kick of heat, gochujang makes a perfect glaze to spice up your everyday salmon dish!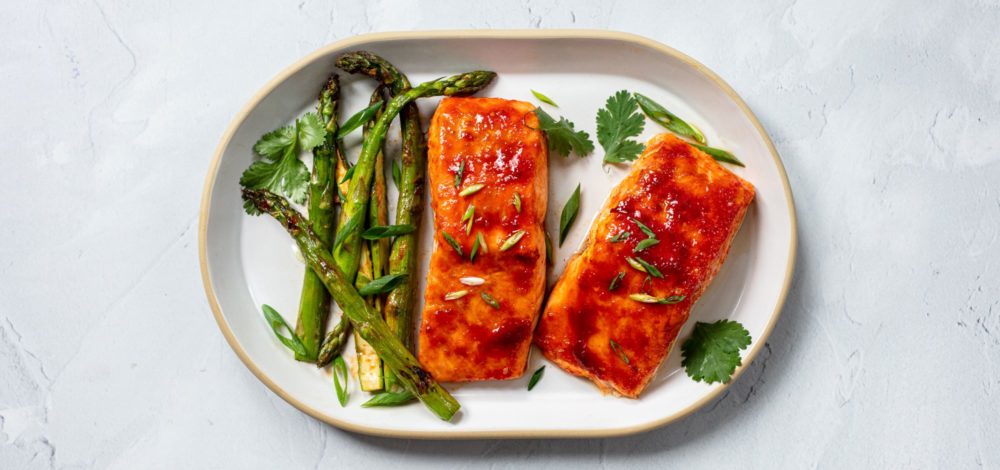 Recipe Serves
4
Minutes Prep
10
Minutes Cook
10
Total Minutes
20
Difficulty: easy
Ingredients
3 tablespoons Annie Chun's Go-Chu-Jang Sauce
1 tablespoon toasted sesame oil
1 tablespoon honey
1 teaspoon rice wine vinegar
½ teaspoon grated fresh ginger
4 4 oz. salmon fillets
8 oz. fresh asparagus spears, trimmed
1 teaspoon vegetable oil
1 tablespoon scallion greens, chopped
Salt
Method
In a medium bowl, whisk together the Go-Chu-Jang Sauce, sesame oil, honey, rice wine vinegar, and ginger.
Position an oven rack 6-inches from the heat source and preheat the broiler to high.
Put the salmon and asparagus on a foil-lined rimmed baking sheet. Drizzle with the oil and sprinkle lightly with salt.
Broil 5-7 minutes, until the salmon looks opaque. Brush half the glaze evenly over the salmon. Broil for an additional 1-2 minutes, until the salmon is cooked through and the glaze is bubbling (watch so that the glaze doesn't burn).
To serve, brush with remaining glaze and sprinkle with scallion.
Recipe courtesy of Familystyle Food