Shishito Peppers Chop Suey
Blistered shishito pepper stir-fry with chicken and sweet carrots coated in Annie Chun's Teriyaki Sauce. The perfect topping for brown or white rice!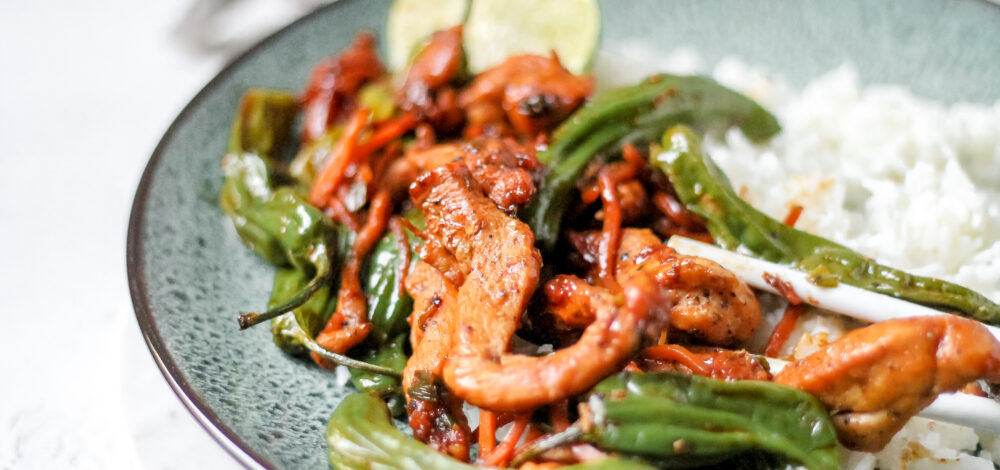 Recipe Serves
1
Minutes Prep
25
Minutes Cook
5
Total Minutes
30
Difficulty: easy
Ingredients
¾ c Jasmine rice
2-3 scallions, thinly sliced, white and green parts separated
10-12 shishito peppers
10 oz. chicken breast strips
⅓ c shredded carrots
Chop Suey Sauce:
2/3 cup low sodium chicken stock
1/4 teaspoon coconut sugar
1 1/2 tablespoons soy sauce
1 tsp Annie Chun's stir-fry sauce
1 1/2 tablespoons oyster sauce
1/2 teaspoon toasted sesame oil
1/8 teaspoon ground white pepper
Method
Combine rice and 1 ½ cups of water in a large pot. Bring to a boil, then lower to a simmer and cook for 15 minutes. Let rest for 10 minutes with lid on, then fluff with a fork.
Combine all the Chop Suey Sauce ingredients and set aside.
Toss chicken strips with salt and pepper (season to taste) and then fry in a large, shallow pan with 1-2 tsp hot high-heat oil. Stir until seared and cooked through, then transfer to a plate and wipe out the pan.
Replenish the pan with 1-2 tsp oil and add in the peppers. Cook until lightly blistered and charred with a smoky aroma, 4-6 minutes. Add in the shredded carrots and white parts of the scallions and cook until softened. Add in the chicken and chop suey sauce.
Serve over rice and garnish with white parts of scallions.