Zucchini and Carrot Pad Thai Noodle Bowl
This is the best noodle bowl you'll ever make! The zucchini and carrot noodles pair flawlessly with the Pad Thai noodles; a quick and delightful lunch in minutes.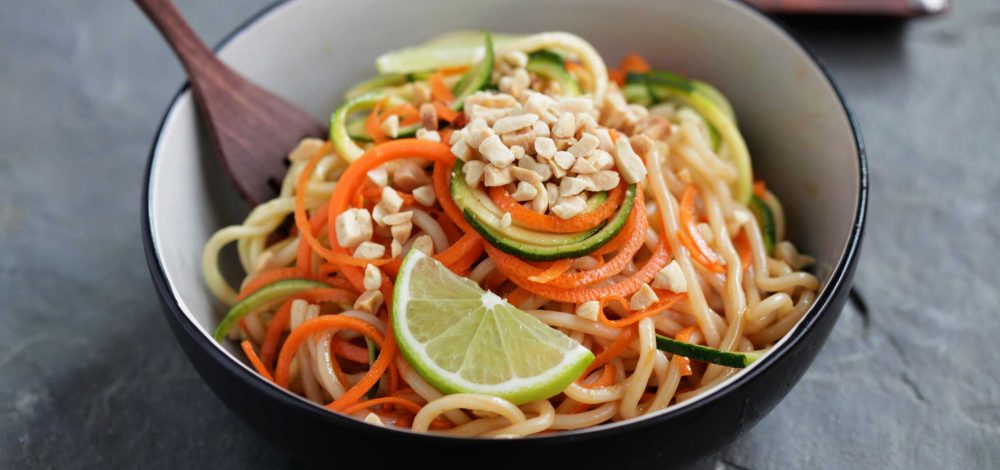 Recipe Serves
1
Minutes Prep
10
Minutes Cook
2
Total Minutes
12
Difficulty: easy
Ingredients
2 oz. zucchini

2 oz. carrot, peeled

1 teaspoon sesame oil

Lime wedges
Method
Trim the ends of the zucchini. Place it next to the blade on a spiralizer and spin away to make spiralized zucchini noodles. Trim the ends of a peeled carrot and repeat the same step above to make spiralized carrot noodles.
Open Annie Chun's Pad Thai Noodle Bowl, place noodles in the bowl and add ¼ cup water. Place the lid loosely on the bowl and microwave on high for 90 seconds. Drain and rinse under cold water.
Toss the zucchini, carrot and noodles together. Add the sauce packet and sesame oil to the noodles, mix well. Garnish the noodles with the peanut packet and the lime wedges. Serve immediately.
Cook's Note:
Discard the vegetable packet in the noodle bowl.