Juice Pulp Fritter Buddha Bowls with Peanut Sauce
Make the most of your juice pulp and turn them into wholesome vegetable fritters packed with fiber and vitamins! Served in brown rice buddha bowls, drizzled with peanut sauce.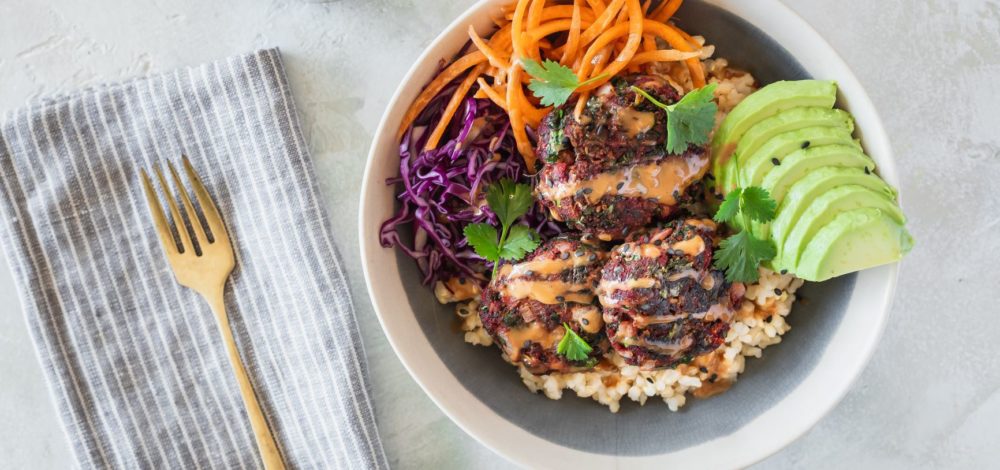 Recipe Serves
4
Minutes Prep
20
Minutes Cook
10
Total Minutes
30
Difficulty: medium
Ingredients
2 cups vegetable pulp (such as carrot, beet, and kale)*, excess liquid squeezed
½ cup onion*, finely chopped
¼ cup fresh cilantro*, chopped
1 flax or chia egg
½ teaspoon salt
½ teaspoon teaspoon turmeric
3 tablespoons coconut oil
4 packs Annie Chun's Sprouted Brown Rice
1 avocado, sliced
½ cup purple cabbage*, thinly sliced
Cilantro leaves*, for garnish
Black sesame seeds, for garnish
Annie Chun's Thai-Style Peanut Sauce, for drizzling
* Can be substituted with celery, ginger, baby spinach, or swiss chard
Method
In a large bowl, add the vegetable pulp, onion, chopped cilantro, flax or chia egg, salt, and turmeric. Mix until combined.
Using a ¼ cup measuring scoop, scoop out the mixture, pressing down to make sure it's packed, letting any extra moisture drip out .
Melt coconut oil in a large preheated skillet over medium-high heat and place 3-4 fritters in the pan. Cook for about 4 minutes per side, flipping once. Repeat with remaining fritters, adding more coconut oil to the pan if necessary.
Divide brown rice into four bowls. Top with a couple of fritters, avocado, and red cabbage. Drizzle peanut sauce on top and garnish with cilantro and crushed peanuts. Serve with lime wedges.