Chinese Beef and Broccoli Rice Noodles
This amazing recipe combines everyone's favorite Chinese broccoli beef with Annie Chun's rice noodles for a perfect noodle dish that is both filling and delicious!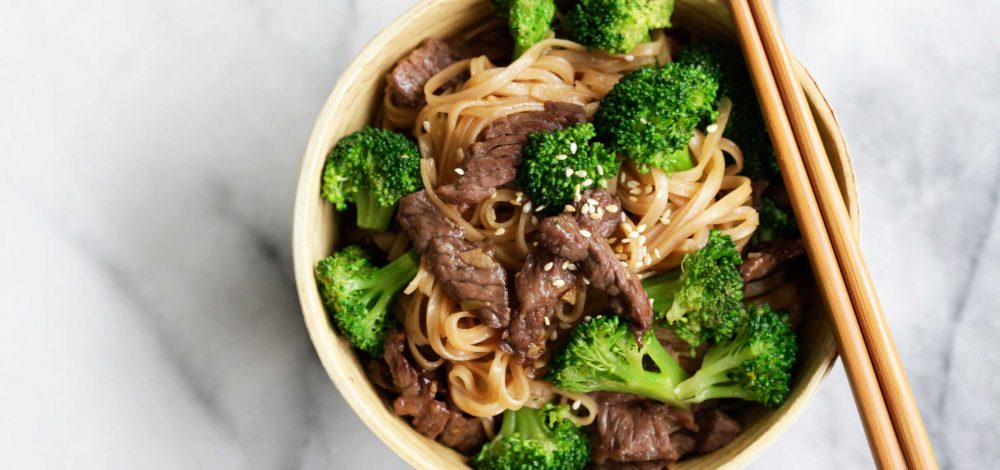 Recipe Serves
2
Minutes Prep
15
Minutes Cook
5
Total Minutes
20
Difficulty: medium
Ingredients
8 oz. beef tenderloin
2 cloves garlic, minced
8 oz. broccoli florets
1 tablespoon soy sauce
2 tablespoons oyster sauce
1 tablespoon sugar
5 tablespoons water
Method
Soak the Annie Chun's Pad Thai Rice Noodles in hot water for 10 minutes or until tender. Drain and rinse under cold water and set aside. Slice the beef into bite-sized pieces.
Heat up a skillet on medium heat and add the oil. Stir in the garlic, cook until aromatic. Add the beef, cook until the surface turns brown, followed by the broccoli florets. Stir and toss the beef and broccoli a few times, and then add the Pad Thai Brown Rice Noodles. Add soy sauce, oyster sauce and sugar. Stir continuously to mix well with the noodles. Cook for 1 minute. Serve immediately.