Grilled Zucchini and Nectarine Salad
Sweet nectarines paired with zucchini make a perfect grill combo to add for a deliciously sweet and spicy summer salad.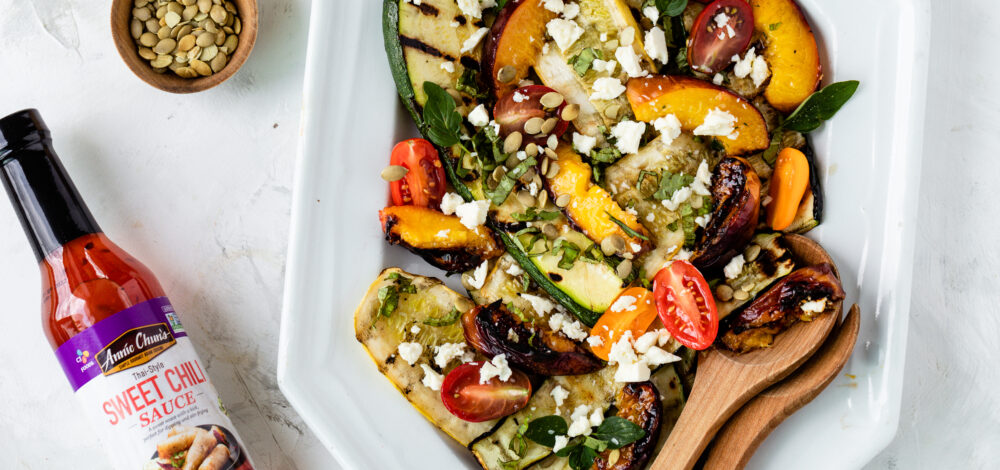 Recipe Serves
4
Minutes Prep
5
Minutes Cook
10
Total Minutes
15
Difficulty: easy
Ingredients
2 medium zucchini
3 nectarines
½ cup Annie Chun's Sweet Chili Sauce
½ cup toasted pumpkin seeds
½ cup crumbled feta
½ cup cherry tomatoes, halved
Fresh basil, minced
Method
Lightly grease the grill grates and preheat the grill to medium-high.
Slice the zucchini into ¼-inch thick planks. Slice the nectarines in half. Brush the cut sides of the zucchini and nectarines with sweet chili sauce.
Grill the zucchini for about 4 minutes per side, until nicely chard and still crisp. Grill the nectarines for 2-3 minutes per side, until sear marks appear.
Slice the nectarines into ¼-inch thick wedges.
Arrange the zucchini and nectarines on a serving platter and top with pumpkin seeds, feta, tomatoes, and basil. Sprinkle with salt and pepper.