Yakitori-style Tsukune Meatballs
Scroll down to see our unique recipe for the Yakitori-style Tsukune Meatballs with Japanese Smashed Cucumber Salad with Annie Chun's Stir Fry Sauce!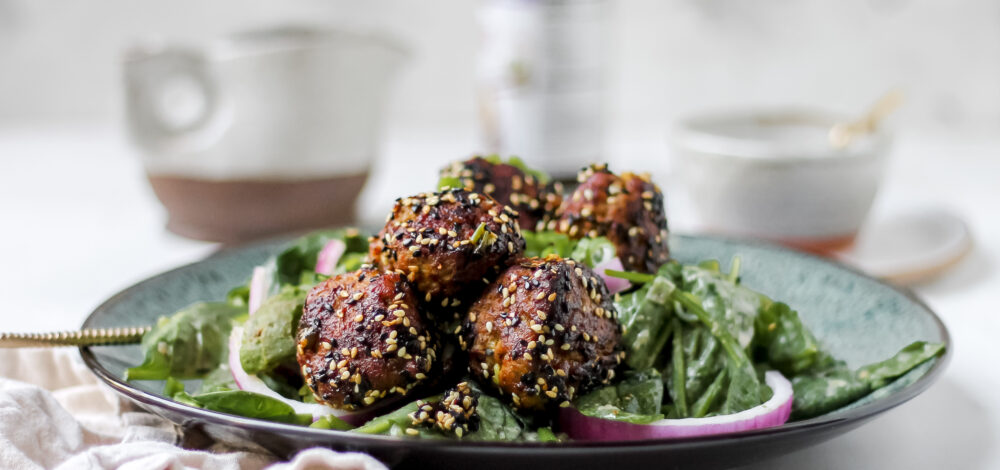 Recipe Serves
2
Minutes Prep
15
Minutes Cook
10
Total Minutes
25
Difficulty: easy
Ingredients
6 green onions, thinly sliced with white & green parts separated
12 ounces ground chicken
¼ c Annie Chun's Stir Fry Sauce
Japanese curry powder, to taste
1persian cucumber
1lime
2 tbsp tahini
1 tbsp unrefined coconut oil
4 ounces baby spinach
White & black sesame seeds
1 avocado
Method
Combine chicken, white parts of the green onions, 2 tbsp stir-fry sauce and season with salt, curry powder, and pepper to taste. Stir until well combined, then place covered in the freezer to harden while you prepare the rest of the ingredients.
In a ziplock bag, combine the chopped cucumber, green parts of the scallions, 2 tablespoon lime juice and season with salt and pepper. Using a heavy bottomed object (like a cup), smash the vegetables. Cut a small corner of the bag to drain excess liquid. Then, stir in the tahini and coconut oil until well combined.
Shape meatballs and fry for 6-8 minutes or until cooked through. Add 2 tbsp of stir-fry sauce and simmer alongside the meatballs until thickened and coated.
Toss the spinach in the smashed cucumber dressing, season to taste with salt and pepper. Serve with the meatballs topped with sesame seeds, scallions, and avocado slices.