Sweet Chili BBQ Mushroom Bao Buns with Asian-Style Salad
Filled with meaty shredded mushrooms and refreshing Asian-style slaw, these vegan sweet chili bbq mushroom baos are a game changer!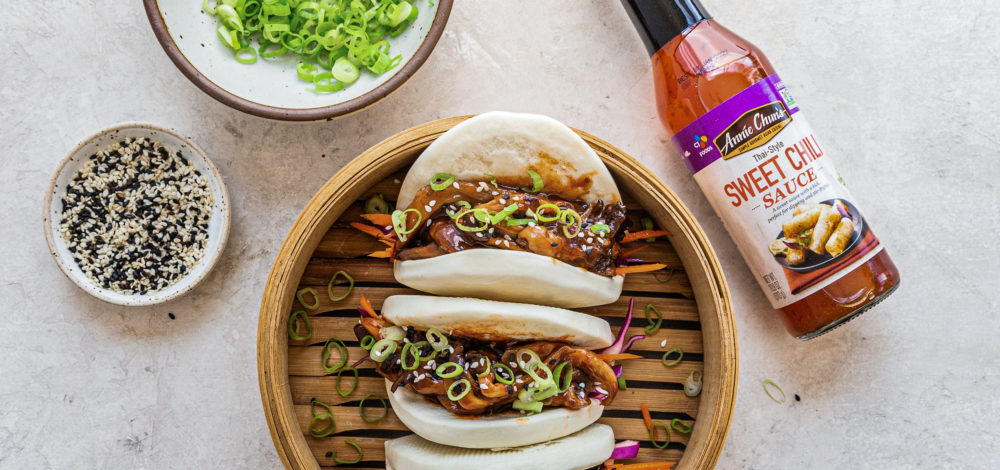 Recipe Serves
5
Minutes Prep
30
Minutes Cook
15
Total Minutes
45
Difficulty: medium
Ingredients
1½ pounds oyster mushrooms, pulled apart to into pieces
4 cloves garlic, finely chopped
2 tablespoons vegetable oil
2 tablespoons cornstarch, mixed with 2 tablespoons water
½ cup ketchup
½ cup + 1 tablespoon Annie Chun's Thai-Style Sweet Chili Sauce
1 tablespoon smoked paprika
Pinch cayenne pepper
2 tablespoons soy sauce
2 tablespoons Worcestershire sauce
2  tablespoons liquid smoke
2 tablespoons rice vinegar
1  tablespoon brown sugar
5 bao buns, steamed
¼ cabbage, thinly sliced
1 carrot, thinly sliced
Pinch kosher salt
½ lime, juiced
Scallion, chopped for garnish
Black and white sesame seeds, for garnish
Method
In a medium bowl, add cabbage, carrots, lime juice, 1 tablespoon sweet chili sauce, and salt. Toss until well incorporated and set aside.
In a separate medium bowl, add cornstarch, ketchup, ½ cup sweet chili sauce, smoked paprika, cayenne pepper, soy sauce, Worcestershire sauce, liquid smoke, rice vinegar, and brown sugar to make the sweet chili bbq sauce. Whisk until everything is well combined.
Heat a large skillet over medium high heat, add oyster mushrooms and garlic. Saute until golden brown, about 10 minutes.
Add the sweet chili bbq sauce mix into the skillet and cook for 5 minutes until the mushrooms are coated in the sauce.
To assemble, gently open a bao bun and add about 1 tablespoon of salad on the bottom, then add Sweet Chili BBQ Mushroom mix. Top with scallion and sprinkle with sesame seeds. Repeat and fill all the bao buns. Serve immediately!