Colorful Pad Thai
Add some color to your Pad Thai with our new rainbow veggie recipe.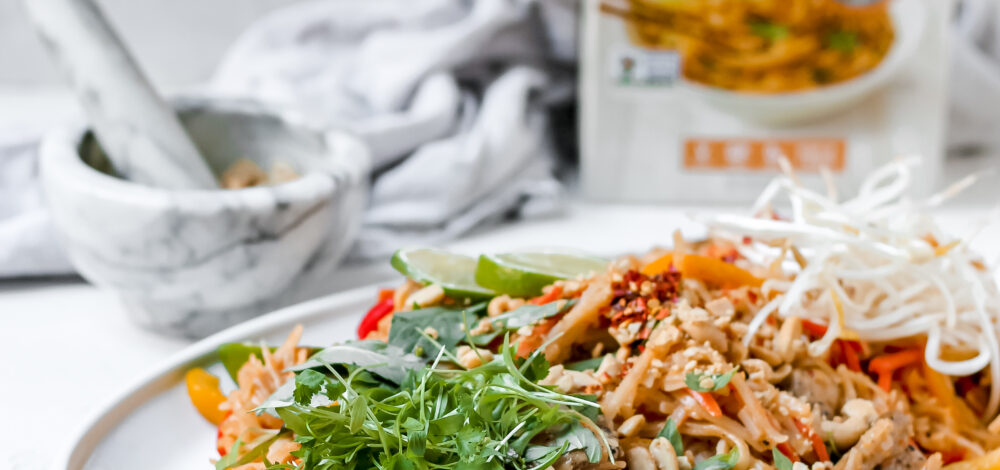 Recipe Serves
1
Minutes Prep
15
Minutes Cook
15
Total Minutes
30
Difficulty: easy
Ingredients
For the Thai Simmer Sauce
3 tbsp rice vinegar
2 tbsp tamari
2 ½ tsp maple syrup
1 ½ tbsp toasted sesame oil
2 tbsp chopped garlic
2 ½ tbsp chopped ginger
For the Pad Thai
8 ounces Annie Chun's flat rice noodles
1 red and 1 yellow bell pepper, sliced into thin strips
1/2 cup shredded carrots
5 sprigs fresh Thai basil
1/4 cup dry-roasted cashews, lightly crushed
1 lime
1 tbsp sambal oelek 
1 lb boneless chicken, cut into 1-inch cubes
Salt & pepper to taste 
2 scallions, chopped into 1-inch pieces and greens/whites divided
Red pepper flakes (optional) 
1/2 cup Mung bean sprouts (optional)
Method
INSTRUCTIONS
Cook noodles according to package instructions. Drain, rinse thoroughly with cold water to avoid sticking and then set aside. 
While the noodles are cooking, prep the remainder of the ingredients and combine all the ingredients for the simmer sauce. 
Season cubed chicken with salt & pepper to taste. Add 1-2 tbsp neutral oil to a hot pan and begin browning the chicken.
Once all the chicken has lightly browned, add the shredded carrots, half of the bean sprouts (if using), white parts of scallions (if using) and bell pepper.  Stir until starting to soften, then add in the Thai Simmer Sauce. As the sauce begins to thicken, add in the cooked noodles and toss until coated in the sauce. 
Stir in the thai basil, sambal oelek (to taste), and salt & pepper (to taste). Garnish with lime wedges, scallion greens, crushed cashews, remaining bean sprouts, and red pepper flakes. 
Squeeze lime over the dish before serving.