Yakisoba Noodle Veggie Bowl
Put your veggies to use! Satisfying and nourishing vegan meal that can be enjoyed for breakfast, lunch, or dinner.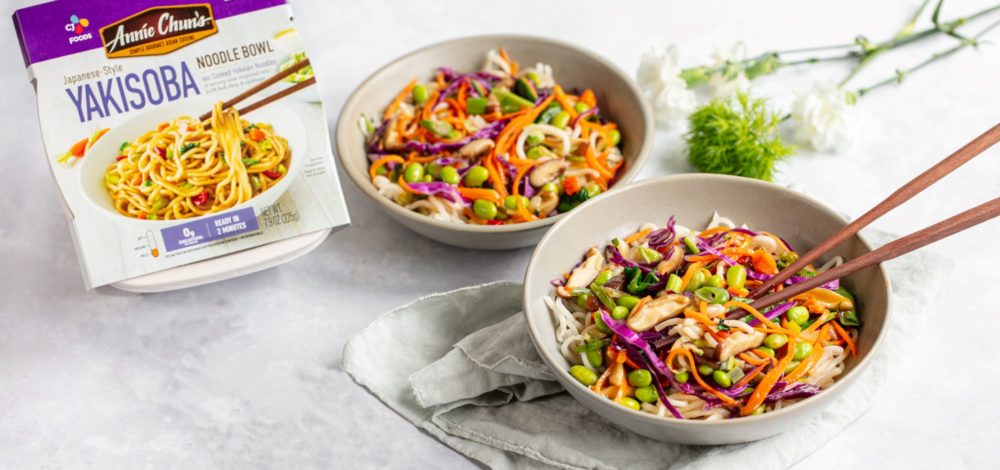 Recipe Serves
2
Minutes Prep
10
Minutes Cook
10
Total Minutes
20
Difficulty: easy
Ingredients
2 tablespoons toasted sesame oil
2 scallions, chopped
1 3.5-ounce package fresh shiitake mushrooms or 2 ounces dried shiitake mushrooms, sliced
2 packs Annie Chun's Yakisoba Noodle Bowls
¾ cup water
1 cup frozen edamame
1 large carrot, peeled and sliced into matchsticks
¾ cup shredded red cabbage
2 cups baby spinach leaves
Method
Heat the oil in a medium saucepan over medium heat. Add the scallions and cook 1-2 minutes, until softened. Stir in the mushrooms and cook until they soften and begin to release liquid, about 2 more minutes.
Add both of the dry topping and sauce packets into the pan along with water and edamame. Bring to a simmer and stir. Cook 2 minutes.
Remove from heat and stir in the noodles, carrots, cabbage, and spinach.
To serve, divide the noodles and vegetables into two bowls and pour the sauce over.
Recipe courtesy of Familystyle Food