Teriyaki Tofu Bánh Mì
A vegan twist on the classic banh mi. The sweet and tangy combo of the crispy tofu and crunchy quick pickles makes for a flavorful sandwich that can't be beat!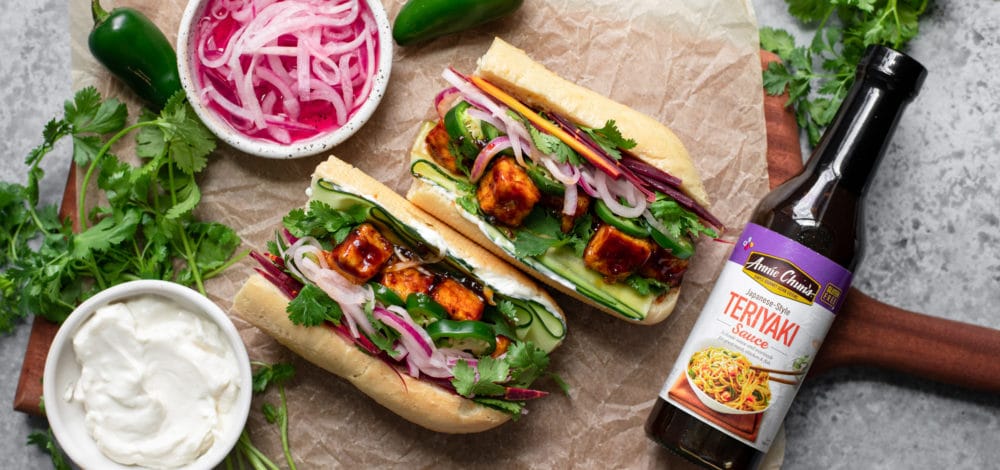 Recipe Serves
6
Minutes Prep
90
Minutes Cook
10
Total Minutes
100
Difficulty: medium
Ingredients
1 red onion, sliced thinly in half moons
1 daikon radish, cut into thin matchsticks
1 tablespoon salt
¼ cup sugar
¾ cup warm water
¾ cup distilled white vinegar
1 block extra firm tofu
¼ cup cornstarch
2 tablespoons oil
1 bottle Annie Chun's Teriyaki Sauce
1 tablespoon cornstarch + 1 tablespoon water
3 demi baguettes cut in half and sliced lengthwise
Vegan mayonnaise
1 purple carrot, peeled and cut into matchsticks
1 cucumber, cut into ribbons with a peeler
Jalapeños, sliced
Cilantro
Method
Toss the cut onion and daikon in the tablespoon of salt. Let sit for 10-15 minutes, or until the daikon has softened enough to bend in half without snapping. Drain the vegetables and rinse with water, gently squeezing out extra liquid. Transfer onion and daikon to a clean glass jar.
Dissolve the sugar in warm water, then add vinegar and pour into the glass jar to cover the onion and daikon. Let sit at room temperature for 1 hour, then refrigerate until ready to use. It tastes even better after a few hours in the fridge and is best consumed within a week.
Cut tofu into 5 slabs, about ¾-inch thick. Lie the tofu flat on a lint free towel or paper towel and wrap to cover. Place a heavy object over the tofu and let press for 20 minutes.
While pressing the tofu, prepare the teriyaki sauce. Stir together 1 tablespoon of cornstarch with 1 tablespoon of water, then combine with a bottle of Annie Chun's Teriyaki Sauce in a small pot. Bring to a low simmer and cook until thickened and glossy.
Cut the pressed tofu into cubes, then gently toss in ¼ cup of cornstarch to coat.
Heat oil in a large skillet over medium heat and add the tofu. Cook until tofu is crispy and golden on all sides, about 5 minutes. Add the teriyaki sauce and stir to coat the tofu, then turn off heat.
To assemble the sandwich, slather vegan mayonnaise onto the baguette, then layer in cucumber ribbons, teriyaki tofu, purple carrot matchsticks, sliced jalapeño, pickled red onion and daikon, and cilantro leaves. Enjoy!