Brown Rice Hand Roll with Asparagus and Mushroom
Our cooked rice makes making hand rolls at home easier than ever. These gluten-free vegetable hand rolls are the perfect light fare for parties or for lunch!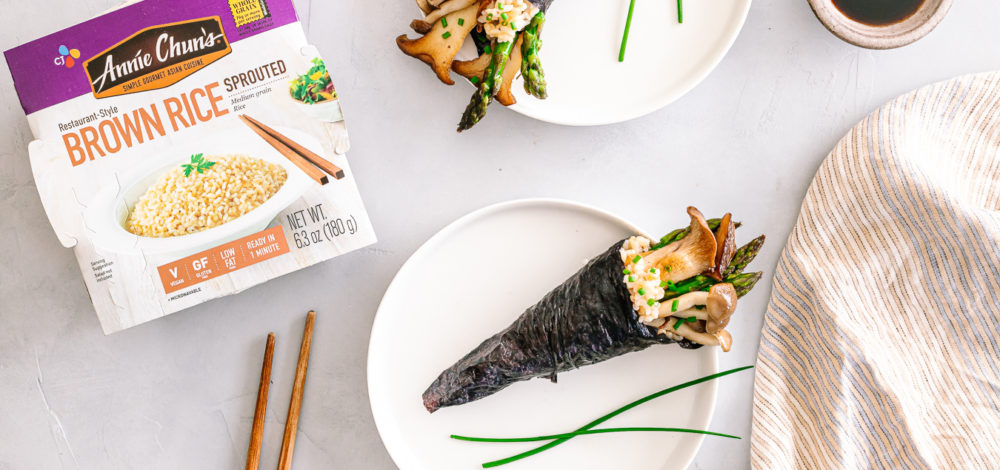 Recipe Serves
2
Minutes Prep
10
Minutes Cook
6
Total Minutes
16
Difficulty: medium
Ingredients
4 oz mixed mushrooms, sliced
8 asparagus spears, trimmed
1 tablespoon vegetable oil
1 tablespoon rice wine vinegar
2 teaspoons sugar
¼ teaspoon sea salt
4 sheets nori seaweed paper
Truffle oil
Minced chives
Method
Heat oil in a large skillet over medium heat. Sauté mushrooms and asparagus until cooked, about 5 minutes. Season with salt, remove from heat and set aside.
Cook Annie Chun's Sprouted Brown Rice according to package directions. Transfer to a medium bowl.
Add vinegar, sugar, and salt in a small saucepan and heat over medium heat stirring occasionally until sugar and salt are dissolved. Cool slightly and add vinegar mixture to the rice. Stir gently with a fork. It should be sticky.
When ready to roll, place the nori sheets on a flat surface and spoon ¼ of the rice near one edge of each sheet of nori. Wet your fingers and press the rice to spread it into an even square over half the nori sheet.
Divide the mushrooms and asparagus between the four hand rolls, placing carefully down the center of each square of rice. Drizzle vegetables lightly with truffle oil.
Roll up the nori, using a little water to make the ends stick if necessary. Garnish with chives and serve with soy sauce.