Lemongrass Chicken Lettuce Cups
These crisp lettuce cups are loaded with a savory Lemongrass Chicken stir-fry! This is our kind of no-waste meal!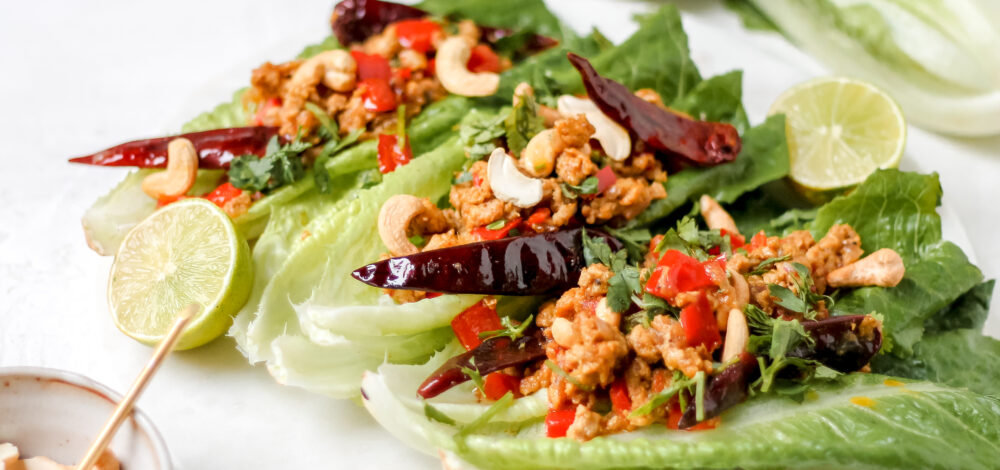 Recipe Serves
2
Minutes Prep
10
Minutes Cook
15
Total Minutes
25
Difficulty: easy
Ingredients
1 red, diced
1 red onion, finely diced
¼ ounce whole dried red chilies (optional)
1 lime, zested and cut into wedges
1 romaine heart, leaves separated
3 tablespoons dry-roasted cashews
4-5 sprigs fresh cilantro, coarsely chopped
10 oz ground chicken
For the Cashew Curry Sauce:
¼ cup coconut milk
2 tbsp cashew butter
1 tbsp Annie Chun's Stir Fry Sauce
1 tbsp fish sauce (or to taste)
½ tbsp toasted sesame oil
1 tsp maple syrup
1 tsp freshly squeezed lime juice
1 tsp sambal oelek, or to taste if spice-averse
1 clove of garlic, minced
1 tsp minced ginger
Method
In a large frying pan over medium-high heat, warm 2 teaspoons of oil until hot. Add the bell pepper, onion, and dried chilies — season with salt and pepper and stir occasionally, until vegetables are softened.
Add the chicken, season with salt and pepper, break up the ground meat as it cooks. Stir the filling until nearly cooked through, then add the Thai curry sauce and lime zest. Lightly simmer until thickened and cooked through. Taste and season with salt if needed.
Fill the lettuce leaves with chicken filling and top with cilantro and cashews. Serve with lime wedges on the side.