Tempura & Egg Miso Soup Bowl
Adding delicious proteins, more vegetables and a soft-boiled egg to our Miso Soup Bowl is like the icing on a cake.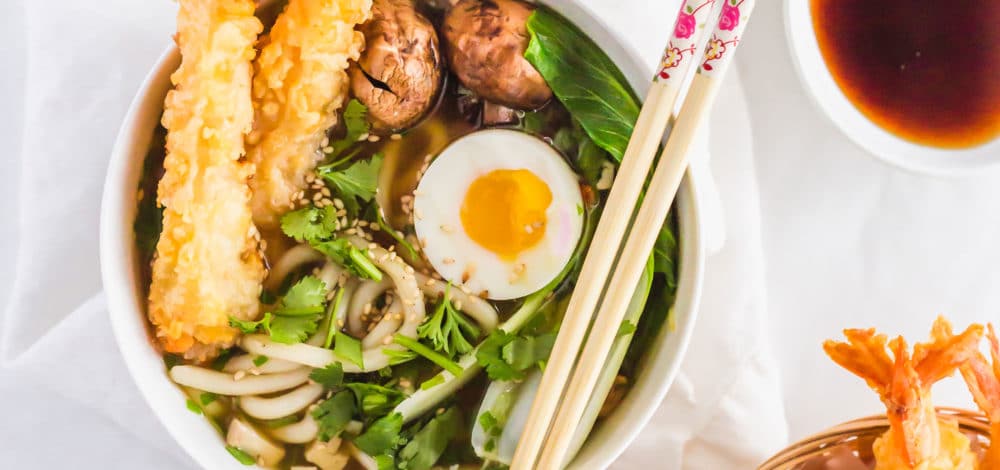 Recipe Serves
1
Minutes Prep
5
Minutes Cook
15
Total Minutes
20
Difficulty: easy
Ingredients
2 frozen shrimp tempura
1 bunch washed baby bok choy
2-3 cremini or shiitake mushrooms (if using dried shiitake mushrooms, soak in hot water for 5 minutes)
1 soft-boiled egg
2 T chopped cilantro
2 T chopped green onions
Method
Preheat oven to 350F.
Line a baking sheet with parchment paper. Add the frozen shrimp tempura to the baking sheet and bake until golden brown and crisp, about 10-15 minutes. Place onto a paper towel.
In the meantime, bring a small pot of water to a boil.
Add in the baby bok choy and blanch for 1-2 minutes. Remove the bok choy and place onto a plate. Add in the mushrooms and boil for 6-8 minutes. (If using dried shiitake mushrooms, cook for a little longer, until tender). Remove and place onto the plate.
Place the udon noodles into a bowl. Add the soup base and freeze-dried topping packets. Cover with enough water, as per the package instructions. Microwave for 2 minutes.
Remove from microwave and stir the noodles. Place the baked shrimp tempura, bok choy, mushrooms, soft-boiled egg, and garnish with cilantro and green onions.
Enjoy immediately.