Spicy Singapore Noodles
Delicious curried noodles, tossed with medley of veggies and crispy tofu. A perfect satisfying, plant-based meal!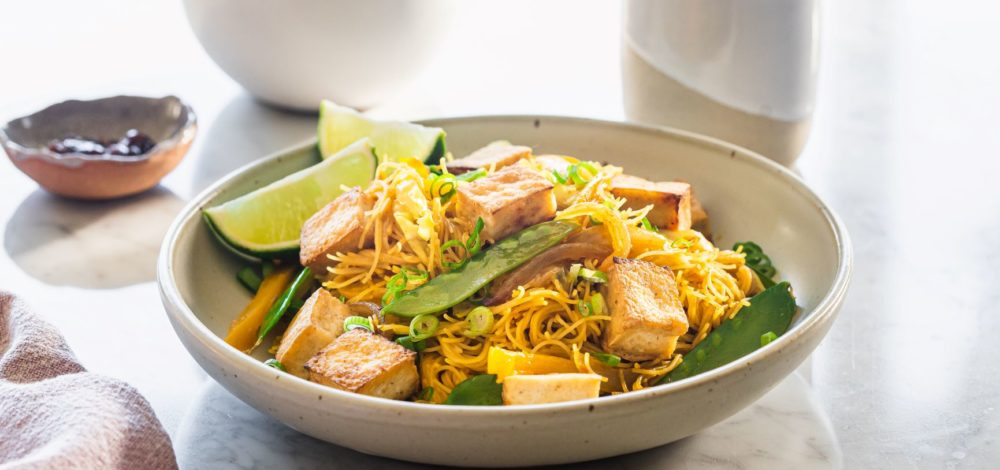 Recipe Serves
4
Minutes Prep
20
Minutes Cook
20
Total Minutes
40
Difficulty: medium
Ingredients
1 tablespoon soy sauce
1 tablespoon mirin, Shaoxing wine, or white wine
1 teaspoon sesame oil
1 teaspoon sugar
1-2 teaspoons chili paste
2 cloves garlic, minced
1 teaspoon fresh grated ginger
12 ounces extra firm tofu
2 tablespoons coconut oil, divided
4 ounces Annie Chun's Maifun Rice Noodles
½ onion, thinly sliced
1 yellow bell pepper, thinly sliced
1 cup snow peas
1 cup cabbage, thinly sliced
1 tablespoon curry powder
½ teaspoon turmeric
½ teaspoon salt, plus more to taste
2 tablespoons chopped scallions
Lime wedges, for serving
Method
Bring a medium pot of water to a boil. Cook noodles according to package directions. Drain and rinse with cold water. Set aside.
Whisk soy sauce, mirin, sesame oil, sugar, chili paste, garlic, and ginger together in a small bowl and set aside.
Pat the tofu dry and cut into 1 inch cubes. Heat 1 tablespoon of coconut oil in a skillet over medium heat. When the oil is hot, add the tofu and cook until golden on all sides, flipping occasionally. Place on a paper towel-lined plate to drain. Season with salt.
Add the onion to the skillet and cook for 3 minutes, then add bell pepper, snow peas, and cabbage. Continue to cook for another 2-3 minutes, then transfer to a bowl.
Add remaining tablespoon of coconut oil to the skillet, then add the cooked noodles and stir fry over medium heat for 2-3 minutes.
Add the vegetables and tofu back into the pan; add curry powder, turmeric, and ½ teaspoon salt. Toss gently until combined. Pour the sauce into the skillet and toss until combined.
Transfer to a large serving bowl. Top with scallions and serve with lime wedges.