Coconut Tofu Noodle Soup
Try adding crispy coconut crusted tofu to your coconut soup bowls for the perfect protein-packed meatless topping!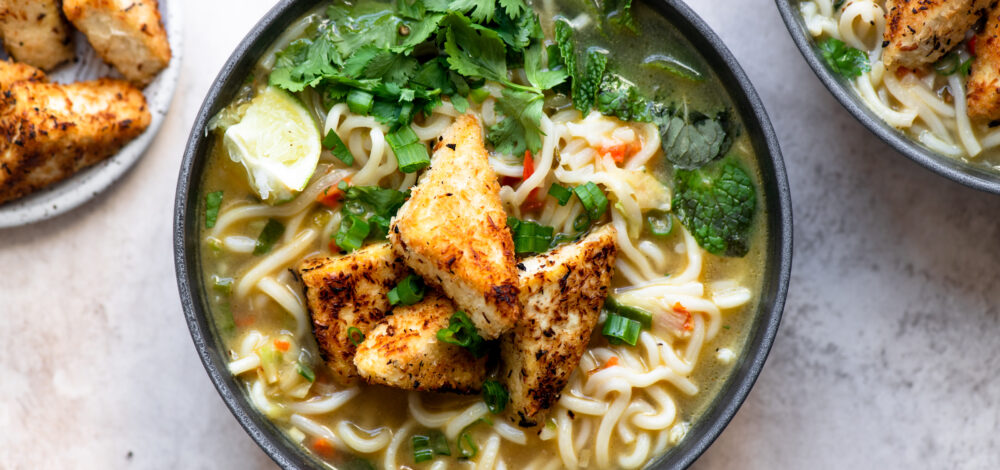 Recipe Serves
4
Minutes Prep
15
Minutes Cook
15
Total Minutes
30
Difficulty: easy
Ingredients
4 Thai-style Coconut Soup Bowls
1 block extra or super firm tofu
¼ cup cornstarch
6 tablespoons non-dairy milk
1 cup unsweetened shredded coconut
½ teaspoon salt
¼ teaspoon cayenne
Oil to cook
Fresh herbs for garnish (e.g. scallions, mint, cilantro, basil)
Method
Cut the tofu into 6 slices widthwise. Then cut each slice in half and cut each half on the diagonal to create a triangle.
Set up dipping stations: in one bowl add the cornstarch, in the second add the milk, and in the third mix together the shredded coconut, salt, and cayenne.
Dip each piece of tofu first into the starch, then into milk, and finally the coconut to coat. Set aside and repeat with all the tofu.
Heat a skillet over medium heat and add oil to coat the bottom. Fry the coconut tofu in batches, flipping the triangles as they brown. Cook them on at least 3 sides until golden. Remove from the pan and transfer to a paper towel-lined plate to drain. Add more oil as needed to cook the remaining tofu.
Prepare the Coconut Soup Bowls according to package directions. Top each bowl with tofu and fresh herbs and enjoy!
Tip: if you want to enjoy the soups one at a time, refrigerate the extra tofu and reheat in a toaster oven or on a dry skillet.