Veggie Stir-Fry with Organic Hokkien Noodles
Try this protein-packed, veggie-loaded noodle stir-fry for a simple and flavorful dinner!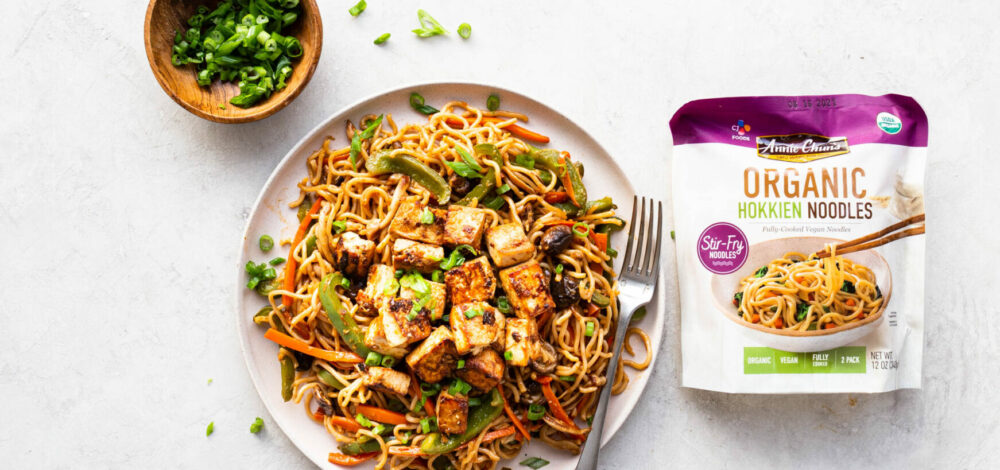 Recipe Serves
4
Minutes Prep
30
Minutes Cook
20
Total Minutes
50
Difficulty: easy
Ingredients
3 tablespoons olive oil
1 green bell pepper, thinly sliced
1 cup shiitake mushrooms
1 cup white clamshell mushrooms
1 carrots, thinly sliced
1 (16-ounce) block extra firm tofu, pressed and cut into large cubes
1 bunch scallions, green parts thinly sliced
1 pack Annie Chun's Organic Hokkien Noodles
⅓ cup sesame oil
⅓ cup light low sodium soy sauce
⅓ cup rice vinegar
2 tablespoons chili paste (like sambal oelek)
2 tablespoons sriracha
¼ cup maple syrup
1 clove garlic, minced
1 knob of fresh ginger, peeled and grated
Method
Add sesame oil, soy sauce, rice vinegar, chili paste, sriracha, maple syrup, garlic, and ginger in a mason jar. Close lid and shake well to combine.
In a medium bowl, add cubed tofu and half of the sauce mixture. Gently stir to coat tofu in sauce.
Heat a non stick saucepan over medium heat and add the tofu. Cook until crispy and liquid has evaporated, about 8 minutes.
In a separate skillet, heat olive oil until smoking. Add green bell pepper, carrots, mushrooms and sauté on high heat until lightly golden. Add remaining sauce and noodles. Stir to combine and cook until noodles are soft and heated through.
Top with crispy tofu and garnish with scallions. Serve immediately.