Sweet Chili Vegan Meatballs and Noodles
This flavorful vegan dish features chickpea-mushroom balls and chewy Hokkien noodles tossed with Korean-style gochujang sauce.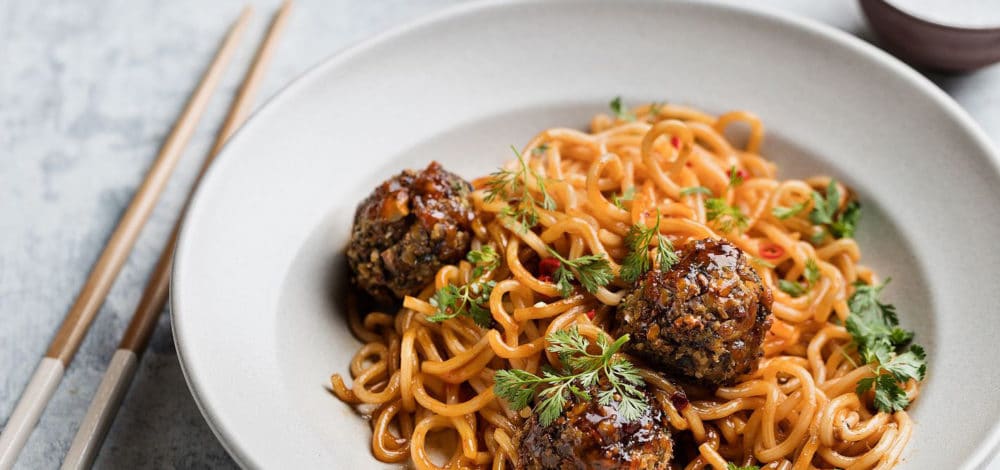 Recipe Serves
2
Minutes Prep
15
Minutes Cook
35
Total Minutes
50
Difficulty: medium
Ingredients
8 ounces cremini mushrooms, quartered
½ cup chopped onion
1 tablespoon olive oil
¼ cup breadcrumbs
8 ounces canned chickpeas, rinsed with liquid reserved
3 tablespoons aquafaba
2 cloves garlic, minced
2 tablespoons chopped fresh parsley
½ teaspoon dried oregano
½ teaspoon fennel seeds
½ teaspoon ground cumin
Salt and ground pepper, to taste
2 packs Annie Chun's Sweet Chili Noodle Bowls
2 tablespoons soy sauce
1 teaspoon vinegar
2 teaspoons maple syrup
3 tablespoons water
Cilantro leaves, to garnish
Toasted sesame seeds, to garnish
Method
Preheat oven to 350°.
Heat a large skillet over medium heat and add a drizzle of olive oil. Sauté onion and mushrooms with a pinch of salt until onion is translucent and water has evaporated.
Add the cooked ingredients, chickpeas, minced garlic, spices, and herbs into a food processor and pulse until everything is combined.
Transfer chopped mixture to a large bowl with breadcrumbs and aquafaba. Use a spatula to combine mixture and season to taste with salt and pepper.
Line a baking sheet with parchment paper. Roll mixture into golf-ball-sized balls (about 1½") and place ½-inch apart on prepared baking sheet. Bake until firm and golden brown, about 25-30 minutes. Flip halfway through.
While the meatballs cook, heat noodles according to package directions. Drain water and set aside.
Whisk together sauce packets, soy sauce, vinegar, maple syrup, and water in a small saucepan. Bring to a boil, stirring constantly until thickened. Remove from heat.
Using tongs, remove the meatballs from the baking sheet into the saucepan. Add noodles and toss to coat evenly with sauce.
Divide noodles and meatballs between two plates. To serve, garnish with cilantro leaves and toasted sesame seeds.