Spicy Salmon Rice Ball Seaweed Snacks
Try these spicy salmon rice ball seaweed snacks for a fun way to add nutritious greens to your meal.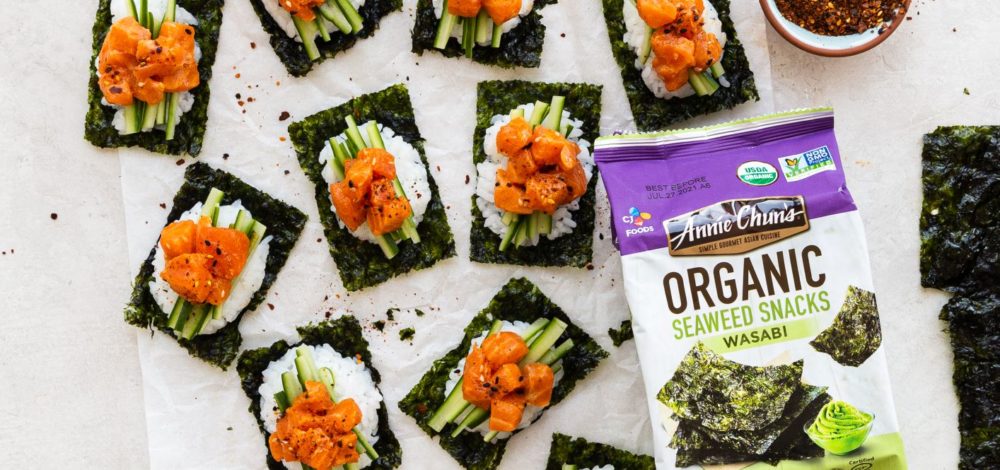 Recipe Serves
2
Minutes Prep
15
Minutes Cook
35
Total Minutes
50
Difficulty: easy
Ingredients
2 cups sushi rice, cooked according to package directions
1 pound salmon, skinned off, medium diced
1 tablespoon sriracha
1 teaspoon sesame seeds
1 tablespoon lime juice
½ tablespoon honey
1 teaspoon kosher salt
½ english cucumber, thinly sliced into 2-inch sticks
Togarashi spice, for garnish
1 pack Annie Chun's Organic Wasabi Seaweed Snack
Method
In a medium bowl, add salmon, sriracha, sesame seeds, honey, lime juice, and salt. Mix until well incorporated.
Place seaweed snack rectangle on a sheet pan. Add 1½ tablespoons of cooked sushi rice onto each sheet and lightly flatten using your hands. Add 5 sticks of cucumber, topped with 1 tablespoon of salmon and sprinkle with togarashi. Repeat until all the seaweed snacks are used.
Serve immediately.