Sweet Miso Glazed Chicken and Noodles
We love putting a spin on the classics. Here we have our Pad Thai Rice Noodles with tender chicken bites glazed with Teriyaki Sauce – an East-meets-West meal you'll love.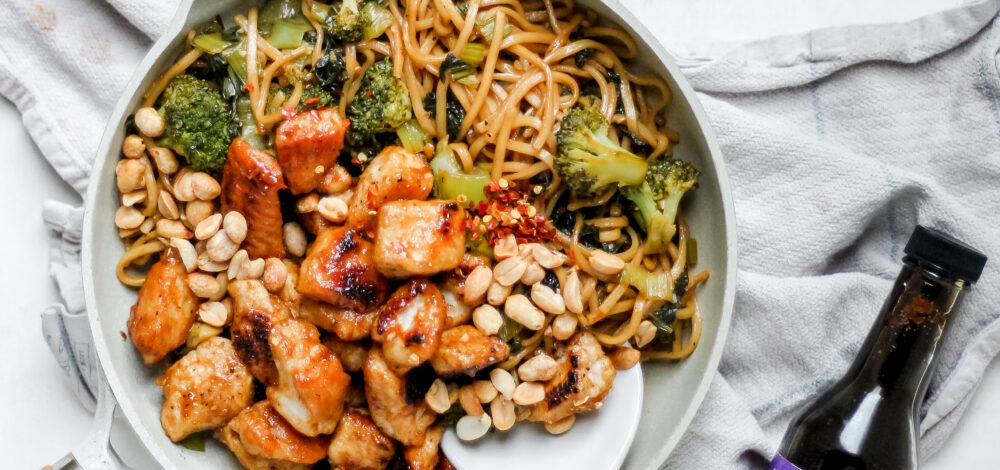 Recipe Serves
2
Minutes Prep
10
Minutes Cook
15
Total Minutes
25
Difficulty: easy
Ingredients
2 tsp. White Miso Paste
1 lb chicken breast, cubed
3 tbsp cornstarch
2 oz. Annie Chun's Teriyaki sauce
2 Garlic Cloves, minced
2 Heads of Baby Bok Choy, cut into ¼" strips
5 oz. Annie Chun's Pad Thai Rice Noodles
2 tbsp Roasted Peanuts, lightly crushed
½ lb Broccoli Florets, cut into bite-size pieces
1 tbsp Brown Sugar
½ oz. Mirin
Method
Cook noodles according to package instructions and set aside. Reserve ½ cup noodle cooking water.
Toss cubed chicken with cornstarch, salt and pepper until evenly coated. Heat a large frying pan with 2 tbsp high-heat oil and place chicken, in batches, to sear until crisp (4-6 minutes per side). Drain excess oil and add sweet chili sauce, soy sauce, and a pinch of salt. Stir until chicken is coated and saucy.
In another pan with oil and add broccoli, cooking until nearly tender (5-7 minutes). Then, add the garlic, bok choy, mirin, noodles and teriyaki sauce, and stir until the sauce is slightly thickened and noodles are coated. Remove from heat.
In a small pan, combine brown sugar, miso, and reserved noodle cooking water. Bring to a boil and stir frequently until a glaze consistency is reached. Toss crispy chicken into the glaze and serve over the noodles.