Spicy Peanut Crispy Tofu Rice Cups
All your favorite Thanksgiving flavors delivered in one delicious bite. These mini rice cup bites make a perfect bite-sized appetizer!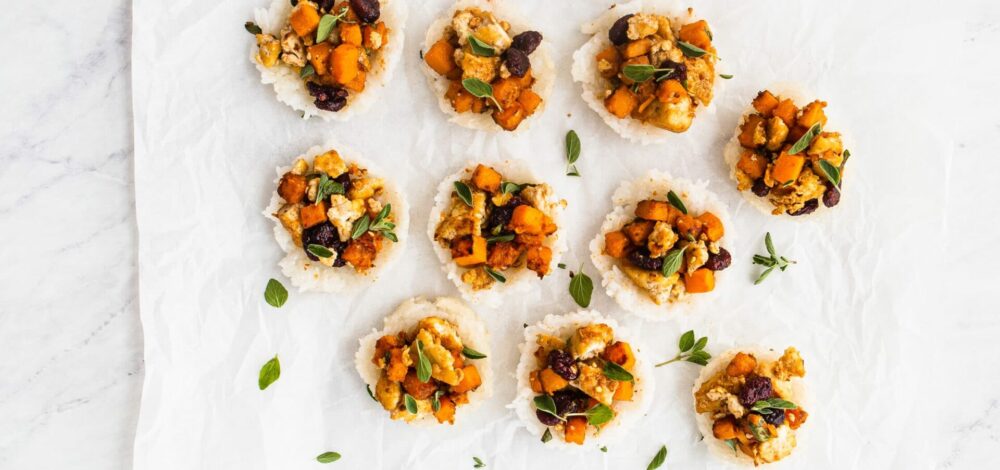 Recipe Serves
12
Minutes Prep
20
Minutes Cook
30
Total Minutes
50
Difficulty: medium
Ingredients
3 packs Annie Chun's Sticky White Rice, microwaved for 1 minute
½ cup olive oil, divided
1 pack extra firm tofu, crumbled into medium sized clumps
3 cups small diced, butternut squash
⅓ cup dried cranberries
½ teaspoon cayenne pepper
¼ cup Annie Chun's Thai-Style Peanut Sauce
Kosher salt
2 tablespoons oregano leaves chopped, plus more for garnish
Method
Preheat oven to 350ºF. 
Spray a muffin tin with olive oil spray, then add 2 tablespoons of rice into each muffin cup. Using your hands, spread the rice evenly to make a "cup."
Bake in the oven for 15 minutes or until the rice is lightly browned and crispy on the edges. Cool for 15 minutes. Then carefully, remove rice cups from the muffin tin and lay on a platter. 
Heat ⅓ cup oil in a large skillet over medium heat, add 1 cup diced butternut squash. Sauté until golden brown. Remove on to a plate lined with paper towels to soak excess oil. Repeat until all the butternut squash are sautéed. 
In the same skillet, heat remaining oil over medium heat. Working in batches, add tofu and sauté until crispy and golden. Remove on to a plate lined with paper towels to soak excess oil. Repeat until all the tofu is cooked. 
In a medium bowl, add sautéed butternut squash, tofu, salt, oregano, cranberries, cayenne pepper, and peanut sauce. Stir to combine. 
Fill each rice cup with 2 tablespoons of the tofu mixture and repeat until all the cups are filled. Sprinkle with oregano leaves and serve immediately.