Spicy Miso Ramen Stir Fry
Dress up your ramen stir-fry with a rainbow of fresh vegetables for a quick and hearty weeknight dinner.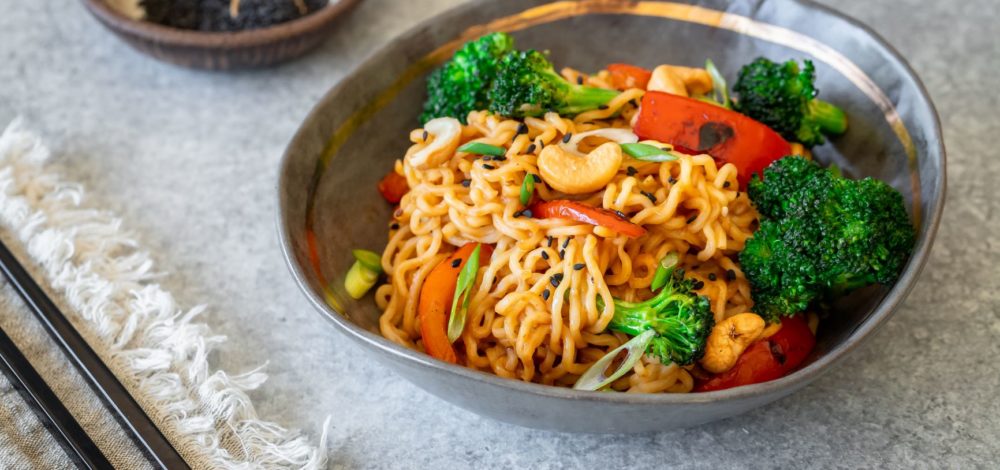 Recipe Serves
1
Minutes Prep
10
Minutes Cook
10
Total Minutes
20
Difficulty: easy
Ingredients
1 tablespoon vegetable oil
½ red bell pepper*, sliced
½ cup broccoli florets*
1 clove garlic, minced
1 pack Annie Chun's Spicy Miso Ramen
½ cup water
2 tablespoons soy sauce
1 tablespoon honey
1 teaspoon cornstarch
1 tablespoon roasted unsalted cashews
1 tablespoon scallions, chopped
* Can be substituted with asparagus, zucchini, mushrooms, onions, or carrots
Method
Add oil to a skillet and heat over medium heat. Add bell pepper and broccoli and saute until cooked, about 5 minutes. Add garlic and saute for another minute.
Remove vegetables from the skillet and set aside. Add water and noodles to the skillet cook until the noodles have softened and most of the water has evaporated, about 2-3 minutes.
Whisk sauce packet, soy sauce, honey, and cornstarch in a small bowl. Add to skillet and toss to combine with noodles.
Add vegetables back to the pan and cook until the sauce has thickened slightly, about 2 minutes.
Transfer to a bowl and top with cashews and scallions.