Brown Rice Chirashi Bowl
Turn our microwavable rice into sushi rice for a delicious chirashi.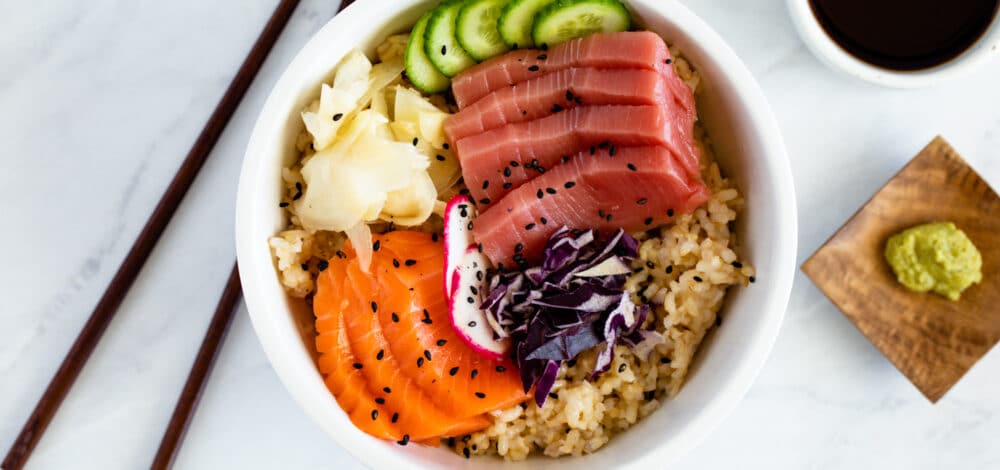 Recipe Serves
2
Minutes Prep
10
Minutes Cook
5
Total Minutes
15
Difficulty: easy
Ingredients
¼ cup rice vinegar
1 tablespoon sugar
1 teaspoon salt
2 packages Annie Chun's Brown Rice
4 ounces sashimi-grade salmon
4 ounces sashimi-grade tuna
2 tablespoons pickled ginger
¼ cup shredded red cabbage
2 mini cucumbers, sliced very thinly
2 teaspoons black or white sesame seeds
Soy sauce, for serving
Wasabi, for serving
Method
In a small saucepan, bring the rice vinegar, sugar and salt to a simmer over low heat. Cook, stirring, until the sugar and salt are fully dissolved. Let the mixture cool.
Cook the rice according to package instructions, then transfer to a mixing bowl.
Sprinkle the cooled vinegar mixture over the rice, then use a wooden spoon to mix the vinegar into the rice.
Divide the sushi rice between bowls. Arrange the salmon, tuna, ginger, cabbage, and cucumbers on top of the rice. Sprinkle with sesame seeds.
Serve with soy sauce and wasabi on the side.