Pineapple Fried Rice
An easy, family-favorite fried rice recipe featuring pineapples and shichimi togarashi.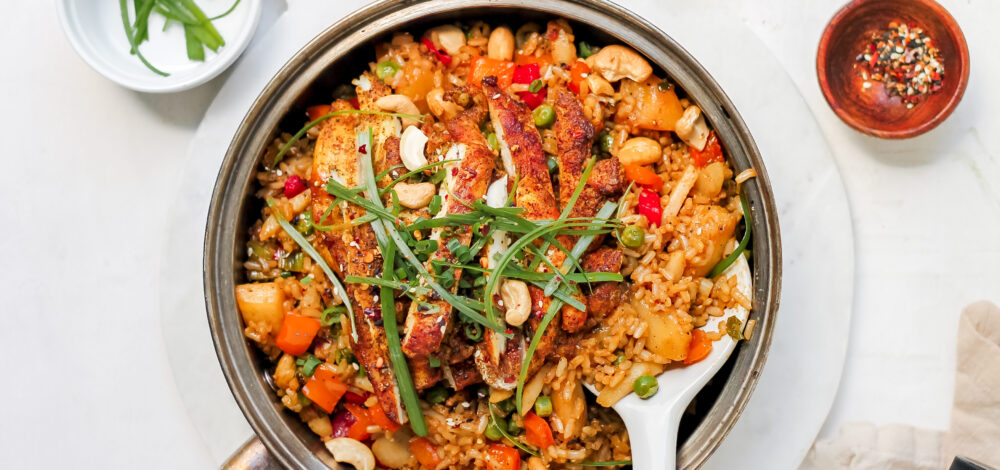 Recipe Serves
1
Minutes Prep
10
Minutes Cook
15
Total Minutes
25
Difficulty: easy
Ingredients
1 packet Annie Chun's Brown Rice
½ c chopped pineapple
1 teaspoon shichimi togarashi
1 red bell pepper, chopped into ½ in pieces
1 lb chicken breast (optional), seasoned with salt, pepper & Japanese curry powder to taste
3 green onions, thinly sliced with white & green part separated
⅓ c Annie Chun's Stir Fry Sauce
½ cup water chestnuts
3 tablespoons cashews
½ cup peas
Method
Cook the rice according to package instructions and set aside.
In a hot skillet with a drizzle of oil, sear and cook the chicken. Let rest on a plate before slicing into strips for serving.
In the same skillet, replenish with oil and add the pineapple, bell pepper, and white parts of the scallions. Stir until the pineapple is lightly browned and caramelized. Season to taste with salt and pepper, then add the peas.
Add the rice, stir fry sauce, cashews, and water chestnuts until fried rice is finished. Garnish with the green parts of scallions, sliced chicken and shichimi togarashi.