Hot and Sour Chicken Stir-Fry
A restaurant-quality dish serving the perfect rice dome and veggie stir-fry!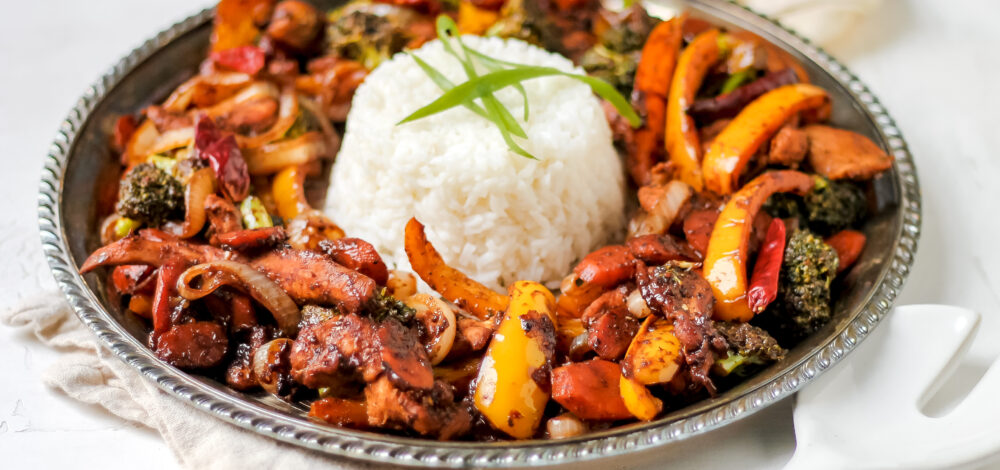 Recipe Serves
3
Minutes Prep
15
Minutes Cook
10
Total Minutes
25
Difficulty: easy
Ingredients
1 cup long-grain white rice
¼ cup fermented black bean paste
2 tbsp Annie Chun's Stir Fry sauce
1 tbsp hot sauce (or to taste)
½ pound broccoli, cut into bite-size florets
1 yellow bell pepper, stemmed, de-cored, and thinly sliced
1 yellow onion, cut into ½" thick slices
1 carrot, thinly sliced on the diagonal
10 oz chicken breast, cut into strips
Method
Combine the hot sauce, fermented black bean paste, and Annie Chun's Stir Fry sauce in a small bowl. Set aside for later use.
Combine rice and 2 cups of water in a pot and bring to a boil. Cover, and let cook for 15 minutes. Keep the lid on for 10 minutes after cooking finishes, then fluff with a fork.
While the rice is cooking, heat a large frying pan or a wok with 2 tsp of high-heat oil. Add the broccoli, carrot, and onion, and cook for 4 minutes, until vegetables are crisp-tender. Season to taste with salt and pepper and transfer to a plate.
Season chicken strips with salt & pepper and then fry in the pan until seared and just cooked through. Stir back in the vegetables and sauce mixture and serve over rice.