Rainbow Udon Noodle Salad
Vegan noodle salad with chewy udon noodles, glazed tofu, and crunchy vegetables – the perfect combo that bursts with bright flavors and texture.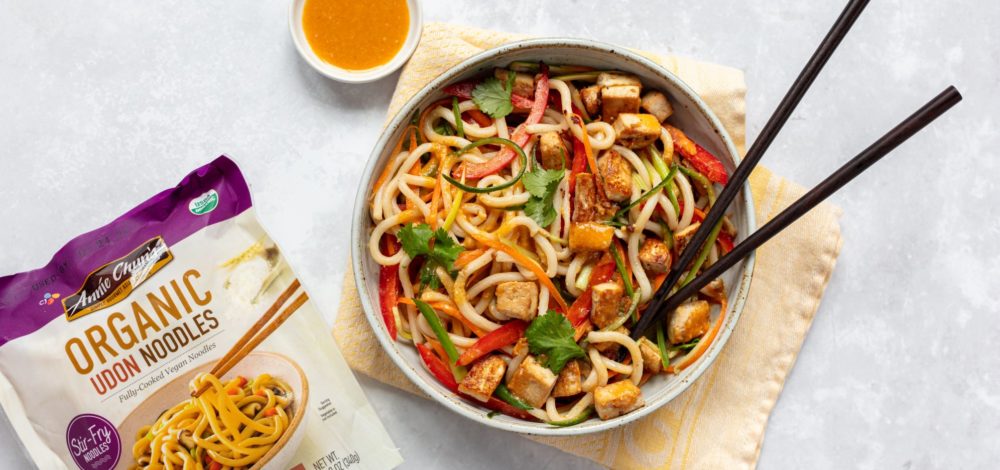 Recipe Serves
2
Minutes Prep
15
Minutes Cook
10
Total Minutes
25
Difficulty: easy
Ingredients
1 tablespoon white miso
1 tablespoon toasted sesame oil
1 tablespoon fresh or bottled lime juice
1 tablespoon cold water
5 teaspoons maple syrup, divided
1 teaspoon grated fresh ginger or prepared ginger paste
1 teaspoon sriracha sauce
2 packs Annie Chun's Organic Udon Noodles
2 large carrots, peeled and sliced into matchsticks or 4 ounces thawed frozen carrots sticks
½ red bell pepper, seeded and sliced into matchsticks or 4 ounces thawed frozen red bell pepper
2 Persian or baby cucumbers, sliced into matchsticks
2 scallions, sliced into matchsticks
½ cup fresh cilantro leaves
1 tablespoon vegetable oil
1 tablespoon tamari sauce
14 ounces firm or extra-firm tofu, drained and cut into ½ inch cubes
Method
To make the dressing, whisk together the miso, sesame oil, lemon juice, water, 2 teaspoons of maple syrup, ginger, and sriracha in a small bowl.
Place the noodles in a medium microwaveable bowl and heat in a microwave oven on high for 1 minute. Cool slightly, then add the carrots, bell pepper, cucumber, scallions, and cilantro. Toss to combine. Pour half the dressing over the noodle mixture and toss gently.
Whisk together the vegetable oil, tamari, and 3 teaspoons of maple syrup in a large bowl. Add the tofu and toss to coat.
Heat a large non-stick skillet over medium-high heat until a drop of water sizzles on contact. Pour in the tofu mixture in one layer. Cook 5-7 minutes, stirring occasionally, until the tofu is golden brown with crisp edges.
To serve, divide the noodle salad into two bowls and top with tofu. Serve with remaining dressing on the side.
Recipe courtesy of Familystyle Food