Vegan Summer Squash Pad Thai
A vegan spin on pad thai, loaded with summer squash and topped with peanuts and sprouts for a fresh crunch!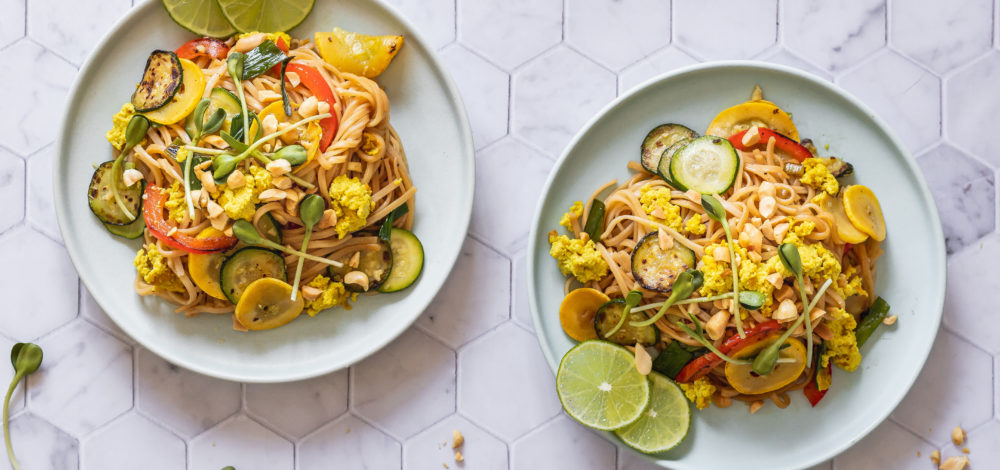 Recipe Serves
4
Minutes Prep
20
Minutes Cook
15
Total Minutes
35
Difficulty: medium
Ingredients
6 ounces firm tofu
½ cup aquafaba (canned chickpea brine)
1 tablespoon olive oil
1 tablespoon nutritional yeast
¼ teaspoon ground turmeric
Freshly ground black pepper, to taste
1 pack Annie Chun's Brown Rice Pad Thai Rice Noodles
5 tablespoons tamarind sauce
1 tablespoons soy sauce
2 tablespoons vegan fish sauce (or more soy sauce)
2 tablespoons coconut sugar
2 tablespoons coconut oil
2 green onions, chopped
2 garlic cloves, finely chopped
1 Thai chili, finely sliced
1 zucchini, sliced
1 yellow squash, sliced
1 red bell pepper, thinly sliced
¼ cup roasted & unsalted peanuts, chopped
½ cup sprouts
Lime wedges, for serving
Method
In a high-speed blender, combine the tofu, aquafaba, olive oil, nutritional yeast, turmeric, and black pepper . Blend on high for 1 minute or until completely smooth.
Grease a large skillet and heat over medium heat. Once the pan is hot, slowly pour in the tofu mixture. Cook for 1 minute, then cover and cook for another 2 to 3 minutes, or until the mixture begins to set around the edges. Remove the lid and use a wooden spoon or heat-safe spatula to fold the mixture, forming soft curds. Continue to cook for another 8 to 10 minutes, gently folding the mixture regularly until it takes on a soft-scrambled texture.
Boil rice noodles according to the package directions. Drain and set aside.
Mix together tamarind, soy sauce, fish sauce, and coconut sugar in a small bowl and set aside.
Heat 1 tablespoon of coconut oil in a large skillet. Add green onions, garlic, and chili. Cook for 1-2 minutes, then transfer to a separate plate. Heat the remaining tablespoon of oil in the same skillet. Add zucchini, yellow squash, and red pepper. Cook for about 3-4 minutes.
Transfer the vegetables to a plate and pour the sauce into the pan. Add the noodles, green onions, chili, garlic, tofu eggs, and vegetables back to the wok. Mix everything well and cook for another minute or two to let everything warm up.
Divide between plates and top with sprouts and crushed peanuts. Serve with lime wedges.