Chilled Sweet Chili Noodle And Salmon Salad
This light and refreshing flaked salmon noodle salad makes for an excellent hearty dinner!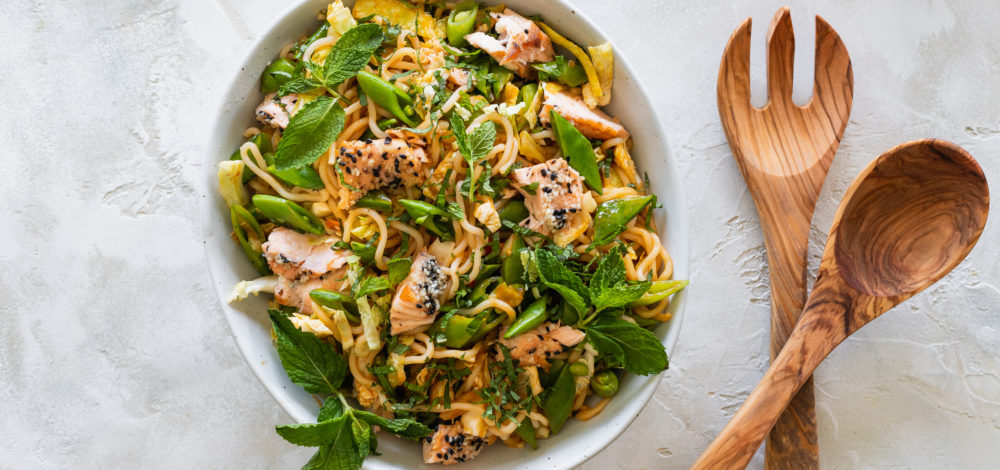 Recipe Serves
8
Minutes Prep
12
Minutes Cook
8
Total Minutes
20
Difficulty: easy
Ingredients
2 packs Annie Chun's Sweet Chili Noodle Bowls
8 ounces salmon
Pinch of salt
Pinch of black pepper
1 tablespoon sesame seeds
1 tablespoon vegetable oil
1 cup sugar snap peas, chopped
1 cup napa cabbage, thinly sliced
½ cup fresh mint, julienned
Method
Heat noodles according to package directions. Transfer to a large bowl and toss with sweet chili sauce packet. Set aside to cool.
Season salmon filet with salt and pepper and sprinkle the top with sesame seeds. Heat oil in a skillet over medium-high heat. When the oil is hot, add the salmon with the sesame seed crusted side up. Cook for about 3 minutes, then cover and continue to cook until  it feels firm to the touch, about 3-4 minutes more. Transfer to a plate and let stand until cool enough to handle, then flake into bite-sized pieces.
Add salmon, snap peas, cabbage, and mint to the noodles and toss to combine.
Chill for at least 1 hour before serving.