Vegan Fish Tacos with Sweet Chili Sauce
Brighten up your Taco Tuesdays with beer-battered vegan 'fish' tacos made with heart of palm and seaweed!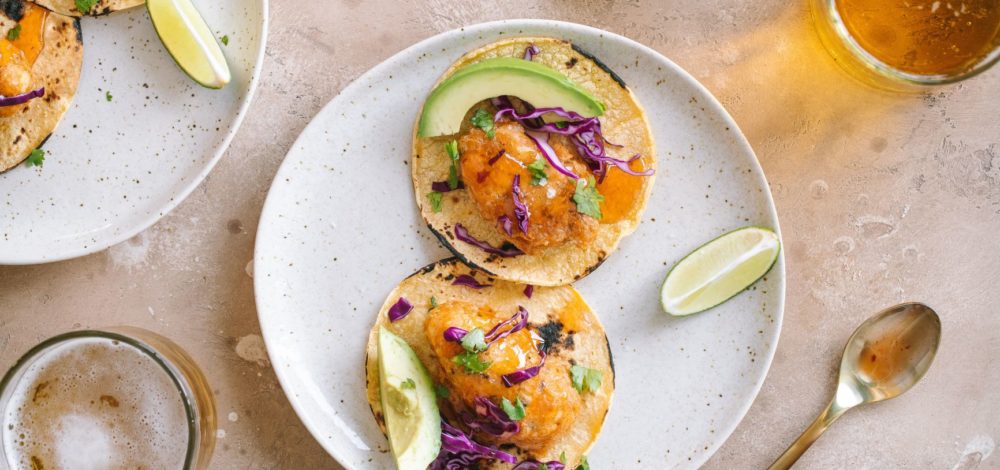 Recipe Serves
4
Minutes Prep
20
Minutes Cook
5
Total Minutes
25
Difficulty: medium
Ingredients
1 can hearts of palm, drained
¼ cup panko bread crumbs
1 tablespoon crumbled Annie Chun's Organic Sesame Seaweed Snacks
Pinch of salt
Pinch of black pepper
1 tablespoon ground flax seed
3 tablespoons water
½ cup flour
1 teaspoon garlic powder
1 teaspoon paprika
½ teaspoon salt
¾ cup light beer
Vegetable oil, for frying
8 tortillas
Purple cabbage, thinly sliced
Avocado, pitted and thinly sliced
Cilantro leaves
Annie Chun's Thai-Style Sweet Chili Sauce
Lime wedges
Method
Add hearts of palm, panko, seaweed, salt, and pepper to the bowl of a food processor. Pulse a few times until ingredients are combined. The mixture should be a chunky texture. Shape the mixture into 8 "fish sticks" and squeeze out any excess liquid. Place on a parchment-lined baking sheet and let chill for 30 minutes.
To make the batter, combine the flax seed with water in a small bowl and let sit until thickened, about 5 minutes. In a medium bowl,whisk together flour, garlic powder, paprika, and salt. Stir in the thickened flax egg and slowly mix in the beer.
Heat enough oil to cover 1 inch of a small cast iron skillet. Once the oil is hot, coat the "fish sticks" in the batter. Working in batches, gently place 3-4 pieces in hot oil and fry for about 2 minutes, flipping once.
Remove from oil and place on a paper towel to absorb excess oil.
Warm tortillas. Assemble tacos with vegan fish sticks, avocado, cabbage, and cilantro. Drizzle with sweet chili sauce and serve with lime wedges.