Spicy Eggplant Tempura Ramen
Load up your spicy miso ramen with baked tofu and eggplant tempura for a wholesome vegan meal!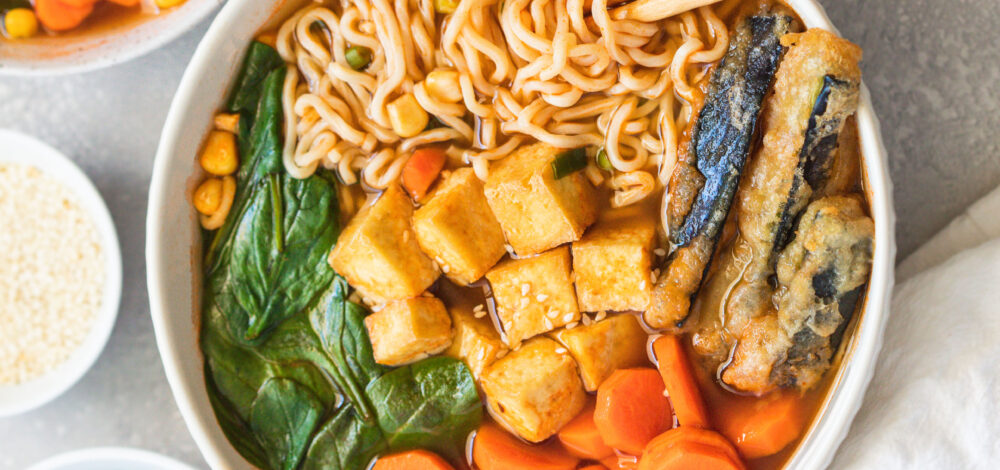 Recipe Serves
2
Minutes Prep
20
Minutes Cook
10
Total Minutes
30
Difficulty: easy
Ingredients
2 packs Annie Chun's Spicy Miso Ramen
1 small eggplant, chopped into rings or strips
1 teaspoon baking soda
1½ tablespoons cornstarch
½ cup all-purpose flour
½ cup chilled sparkling water
2-3 ice cubes
1½ cups vegetable oil, or high-heat oil
½ teaspoon salt
1 carrot, peeled and chopped
½ cup fresh spinach
1 cup cubed tofu, baked
Method
Place the vegetable oil in a pot and heat to 330-350°F.
In a large shallow bowl, combine the flour, cornstarch, baking soda, and mix. Slowly pour in the sparkling water and whisk into a batter. Add the ice cubes to the batter; this ensures the batter stays cold.
Dip the eggplant into the batter. Gently shake off the extra batter that might be on the eggplant. Place the eggplant in the oil and cook for 2-3 minutes or until golden brown. Make sure not to overcrowd the pot with battered eggplant.
Place the cooked eggplant on a plate lined with a paper towel. Immediately season with salt.
Add 2½ cups of water to a pot and bring to a boil. Once boiling, add the carrots and cook for 3-4 minutes.
Open up the spicy miso ramen soup bowl and place the dry toppings, noodles, and soup base in the bowl. Divide the water, carrots, and spinach between the two soup bowls. Cover with the lid and let stand for 2 minutes.
Transfer the soup to a bowl and top with baked tofu and eggplant tempura. Enjoy immediately.
Recipe courtesy of It's All Good Vegan