Summer Rolls
One of the most enticing – and healthy – appetizers in Asian cuisines. The taste is light, refreshing and absolutely pleasing to the palate.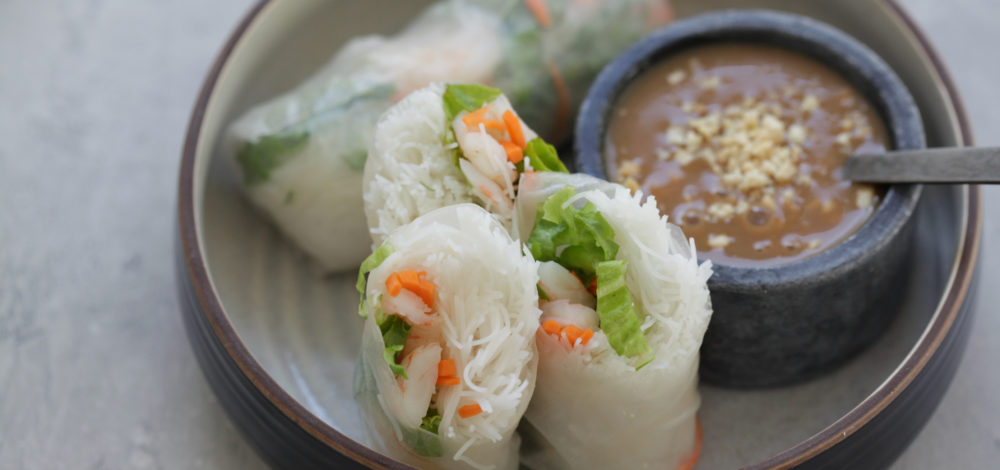 Recipe Serves
6
Minutes Prep
15
Minutes Cook
10
Total Minutes
25
Difficulty: medium
Ingredients
Water (for boiling)
4 oz peeled and deveined shrimp
2 leaves fresh lettuce, sliced
6 sheets Vietnamese rice paper
2 oz carrots, peeled and cut into matchstick strips
For the Hoisin-Peanut Sauce:
4 tablespoons hoisin sauce
1 tablespoon creamy peanut sauce
4 teaspoons apple cider vinegar
1/4 cup warm water
Sugar, to taste
1 tablespoon roasted peanuts, roughly chopped or pounded
Method
Add the water to a pot and bring it to a boil. Add Annie Chun's Maifun Rice Noodles and boil for 2-3 minutes or until tender, stirring occasionally. Drain and rise under cold water and set aside.
Combine all the ingredients for the Hoisin-Peanut Sauce together in a small bowl. Whisk it to mix well. Transfer to a dipping bowl and garnish with the peanuts.
In another small pot, bring some water to boil. Cook the shrimp for about 1 minute, or until the shrimp are completely cooked. Drain, let cool, and slice in half, lengthwise. Set aside.
Divide the vermicelli, shrimp, lettuce and carrot into 6 equal portions.
To assemble the summer rolls, dip one sheet of the rice paper in a big bowl of water. Shake off the excess water and quickly transfer it to a clean, dry and flat working surface, for example, kitchen countertop or a chopping board.
Place the Annie Chun's Maifun Rice Noodles on the bottom part of the rice paper. Add the sliced lettuce and carrots. Place 3 shrimp halves on top. Fold the bottom side of rice paper over the filling securely, then fold the left and right sides of the rice paper over the filing. Make sure the filling is secured tightly. Continue to roll the summer roll over, as pictured below. Repeat the same until everything is used up.
Cut the Summer Rolls diagonally in the middle into halves, place them on a platter, and serve immediately with the Hoisin-Peanut Sauce.
Recipe courtesy of Rasa Malaysia