Shiitake Mushroom and Vegetable Fried Brown Rice
Delicious fried rice with Annie Chun's Sprouted Brown Rice, Shiitake mushrooms and vegetables. This recipe is vegetarian friendly.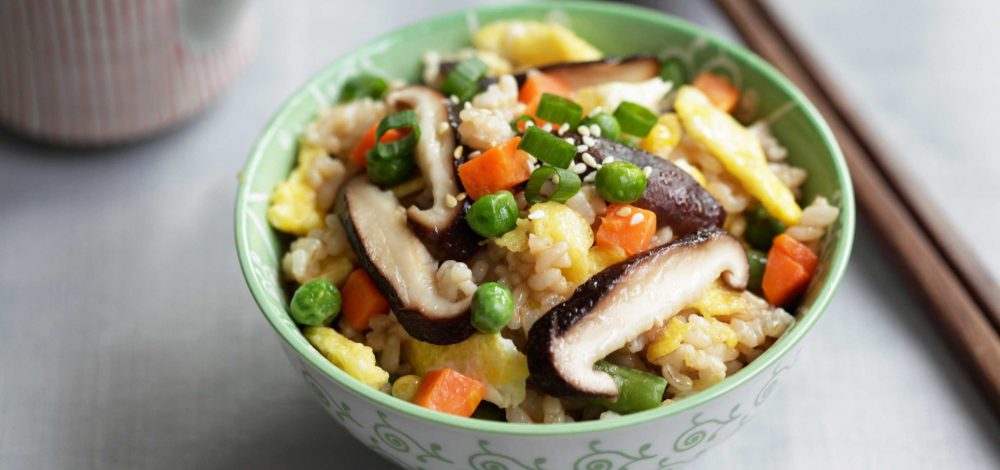 Recipe Serves
2
Minutes Prep
10
Minutes Cook
5
Total Minutes
15
Difficulty: easy
Ingredients
2 tablespoons oil

2 large eggs, beaten

2 cloves garlic, minced

4 oz. Shiitake mushroom, sliced

3/4 cup frozen mixed vegetables

1 tablespoon oyster sauce

Pinch of salt

Sesame seeds

1 tablespoon chopped scallions
Method
Peel back the cover of the Annie Chun's Sprouted Brown Rice at designated corner. Heat on high in microwave for 1 minute. Let cool for 1 minute. Repeat for second rice pack.
Heat up a skillet with ½ tablespoon oil on medium heat. Gently pour in the beaten egg and fry until it starts to set, about 30 seconds. Flip the egg over and continue to fry until it's all set and cooked through. Use the spatula to break up the egg into small pieces. Remove from the skillet and set aside.
Add the remaining oil into the skillet. Add the minced garlic and sauté until light brown. Add the Shiitake mushroom and frozen mixed vegetables, stir fry a few times before adding the brown rice and oyster sauce. Continue to stir-fry until the vegetables are all cooked.
Add the egg back into the skillet and stir to combine well with the rice. Transfer the fried rice into two (2) bowls, garnish with the chopped scallions and serve immediately.