Crispy Bang Bang Cauliflower
Crispy baked cauliflowers served with a spicy and sweet sauce. A gluten free and vegan take on the classic bang bang shrimp.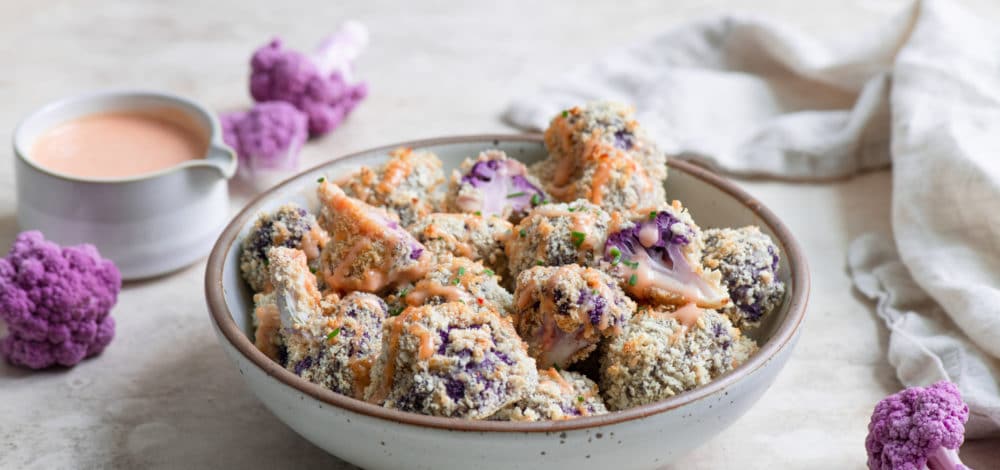 Recipe Serves
6
Minutes Prep
15
Minutes Cook
25
Total Minutes
40
Difficulty: medium
Ingredients
1 head purple cauliflower, cut into florets
1 cup unsweetened soy or almond milk
2 teaspoon apple cider vinegar
2 tablespoon olive oil
1 cup all-purpose flour (or gluten free all purpose blend)
2 cups Panko bread crumbs (substitute crushed puffed rice cereal for gluten free)
½ teaspoon salt
½ teaspoon granulated garlic
½ teaspoon paprika
Pinch of cayenne pepper
Chives, for garnish (optional)
½ cup vegan mayonnaise
¼ cup Annie Chun's Thai-Style Sweet Chili Sauce
1-2 tablespoon sriracha hot sauce, to taste
1 teaspoon rice vinegar
Method
Preheat the oven to 425ºF and line two baking trays with parchment paper.
In a bowl, combine the plant milk with vinegar and let sit for 5-10 minutes to make vegan buttermilk. Next, add the olive oil and flour to the vegan buttermilk and whisk to make a batter.
In a second bowl, combine the bread crumbs, salt, granulated garlic, paprika, and cayenne.
Dip each cauliflower floret into the batter to coat, and then into the breadcrumbs, turning to cover. Use a separate fork or hand for each station. Place the breaded cauliflower in a single layer on the baking trays.
Bake the cauliflower for 20-25 minutes, or until the breadcrumbs are golden.
While the cauliflower is baking, make the bang bang sauce. Whisk the vegan mayonnaise, sweet chili sauce, sriracha, and rice vinegar together until smooth. Refrigerate until ready to use.
Serve cauliflower immediately, garnished with minced chives and bang bang sauce for dipping.