Asian-Style Ratatouille with Udon Noodles
Fresh udon noodles bursting with vibrant colors and rich flavors of roasted vegetables. Light, delicious, and easy to prepare!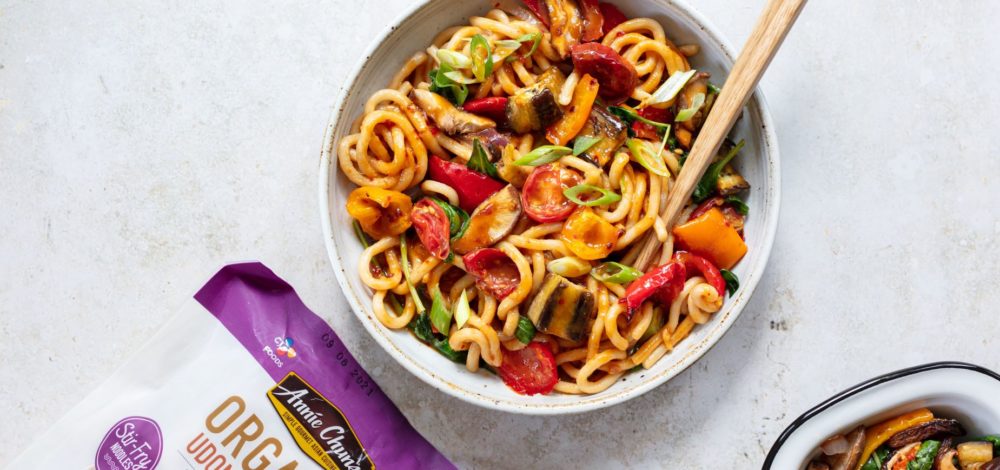 Recipe Serves
2
Minutes Prep
10
Minutes Cook
25
Total Minutes
35
Difficulty: easy
Ingredients
3 tablespoons tahini sauce
3 tablespoons soy sauce
2 tablespoons granulated sugar
1 tablespoon toasted sesame oil
1 teaspoon Asian chili garlic sauce
1 teaspoon minced fresh garlic
1 Japanese eggplant, cut into 2-inch chunks
3 ounces shiitake mushroom caps, sliced ½-inch thick
1 red or orange bell pepper, cut into 2-inch pieces
1 cup assorted color cherry tomatoes
½ cup sliced red onion
2 tablespoons olive oil
1 teaspoon Korean chili pepper (gochugaru)
Salt to taste
1 green onion, thinly sliced on the diagonal
2 cups baby spinach greens
1 pack Annie Chun's Organic Udon Noodles
Method
Preheat oven to 425°F degrees.
Whisk together tahini, soy sauce, sugar, sesame oil, Asian chili garlic sauce, and garlic in a bowl until smooth. Set aside.
Toss together the eggplant, shiitake mushroom, bell pepper, cherry tomatoes, onion, olive oil, chili pepper, and salt on a large rimmed baking sheet.
Roast until the vegetables are tender and golden brown, 20-25 minutes. Add the green onion and spinach to the pan and stir until the leaves wilt.
Empty both noodle pouches into a microwave safe bowl. Heat on high power for 2 minutes. Pour half the sauce over the noodles and toss with tongs to coat.
Portion the noodles into bowls and top with the vegetables. Drizzle remaining sauce over and serve.
Recipe courtesy of Familystyle Food