Savory Teriyaki Granola
Add a satisfying crunch to your meal with a healthy sprinkle of savory granola loaded with grain, nut, and seed clusters.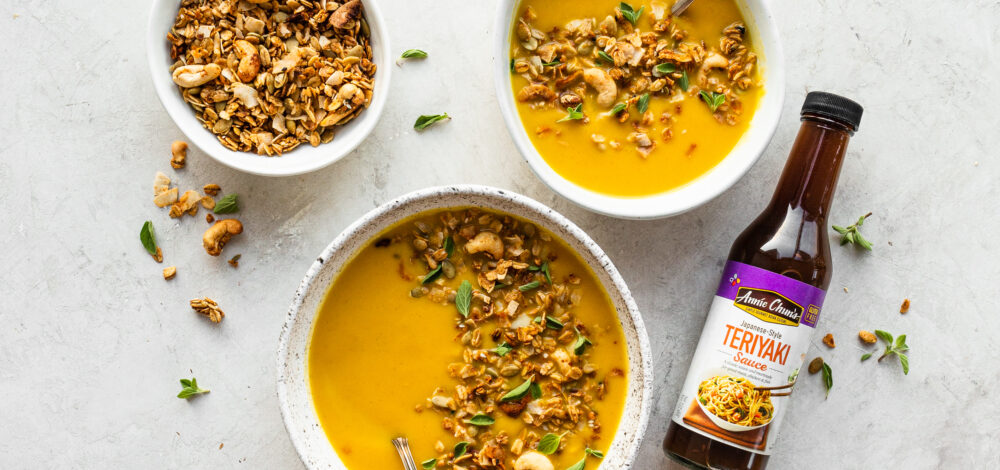 Recipe Serves
12
Minutes Prep
20
Minutes Cook
50
Total Minutes
70
Difficulty: easy
Ingredients
4½ cups old fashioned rolled oats
2 cups unsweetened coconut flakes
1½ cups buckwheat
1 cup raw pumpkin seeds
1 cup raw cashews
¾ cup Annie Chun's Teriyaki Sauce
⅓ cup maple syrup
¼ cup olive oil
2 tablespoons kosher salt
1 tablespoon black sesame seeds
1 tablespoon white sesame seeds
1 tablespoon fennel seeds
1 tablespoon cumin seeds
1 tablespoon smoked paprika
1 tablespoon garlic powder
1 tablespoon onion powder
Pumpkin soup, to serve
Herbs, for garnish
Method
Preheat oven to 350ºF.
Line a 9×13 sheet pan with parchment paper.
To a large bowl, add all the ingredients and mix using a spatula. Add the mixture to the prepared sheet pan, flattened using a spatula to ensure it is evenly distributed on the pan.
Place in the oven on the center rack and bake. At the 30 minute mark remove from the oven and toss to mix the granola. Then bake for an additional 20 minutes until golden brown.
Remove from the oven and cool completely. Then store in an airtight container in a cool dark corner.
Top salad, soups, and grain bowls to enjoy.