Chili-Lime Black Bean Noodles
Try these protein rich chili-lime black bean noodles that will make your Meatless Mondays even tastier.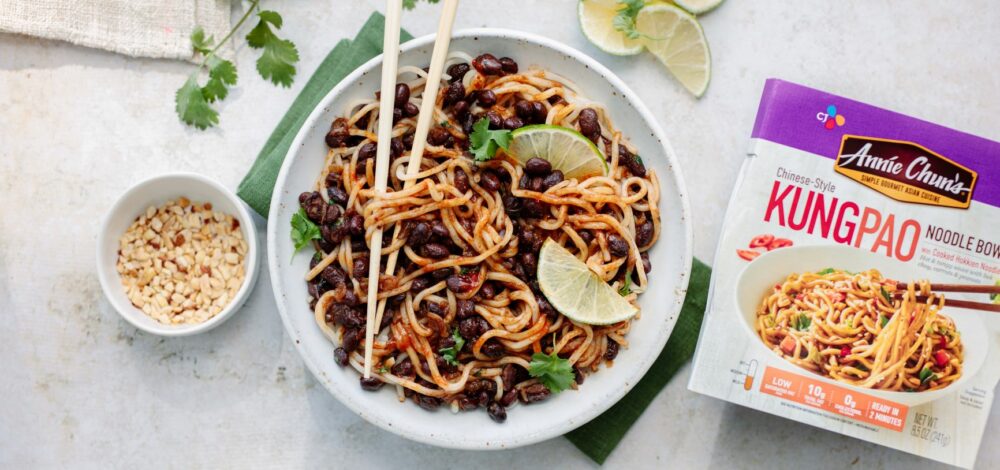 Recipe Serves
4
Minutes Prep
10
Minutes Cook
10
Total Minutes
20
Difficulty: easy
Ingredients
1 tablespoon toasted sesame oil
½ cup finely chopped yellow onion
1 tablespoon minced garlic
1 jalapeno pepper, chopped
2 teaspoons ground cumin
1 teaspoon hot chili powder
2 15-ounce cans black beans (undrained)
2 packs Annie Chun's Kung Pao Noodle Bowls
¼ cup Annie Chun's Sweet Chili Sauce
1 tablespoon fresh lime juice
¼ cup fresh cilantro leaves
Salt
Method
Select the sauté setting on an electric pressure cooker and preheat on medium heat. Add the oil and onion. Cook and stir about 3 minutes, until softened.
Add the garlic, jalapeno, cumin, chili powder, and ½ teaspoon salt. Cook about 30 seconds, until garlic is fragrant.
Stir in the black beans and the contents of the noodle bowl sauce and topping packets.
Secure the lid of the pressure cooker and cook on high pressure for 5 minutes. Use the quick release button or release the pressure manually.
Meanwhile, unwrap the noodles and place in a medium microwave-safe bowl with 2 tablespoons water. Cover and microwave on high for 1 minute. Toss the noodles with chopsticks and microwave an additional 30 seconds if needed.
Stir the sweet chili Sauce and lime juice into the beans. Divide the noodles into bowls and top with the black beans. Sprinkle the cilantro and peanut packets and serve.
Recipe courtesy of Familystyle Food