Brown Rice Sushi Bake
We added our own color to the viral sushi bake by adding our Annie Chun's brown rice and seaweed crisps to complete the recipe!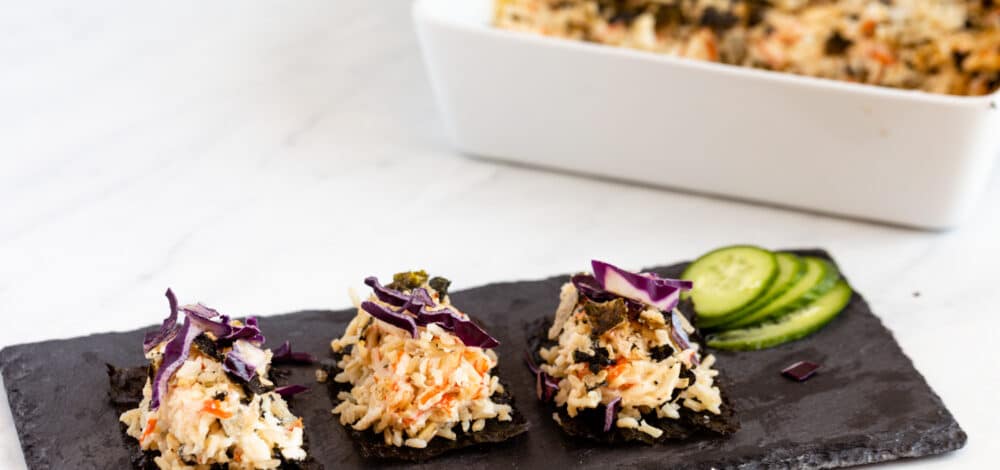 Recipe Serves
6
Minutes Prep
5
Minutes Cook
20
Total Minutes
25
Difficulty: easy
Ingredients
2 6.3-ounce packages Annie Chun's Brown Rice
3 tbsp mirin, divided
½ cup Annie Chun's seaweed crisps, crushed, divided
8 oz shredded kani (imitation crab)
½ cup cream cheese, at room temperature*
1 tbsp soy sauce
2 mini cucumbers, sliced
Method
Preheat the oven to 425°F.
Cook the brown rice in the microwave according to package instructions, then transfer to a mixing bowl. Toss with 2 tbsp mirin.
Transfer the rice to an 8×8-inch baking dish and press into an even layer. Cover with half of the crushed Seaweed Crisps.
In the empty mixing bowl, stir together the shredded kani, remaining 1 tbsp mirin, cream cheese, and soy sauce until uniform.
Spread the kani mixture over the rice in the baking dish. Top with the remaining crushed Seaweed Crisps.
Bake for 10-15 minutes, until warmed through.
Slice and serve with cucumbers and Seaweed Snacks.
*Microwave the cream cheese for 10-20 seconds to soften.