Savory Seaweed French Toast
A new, unique way to make French toast!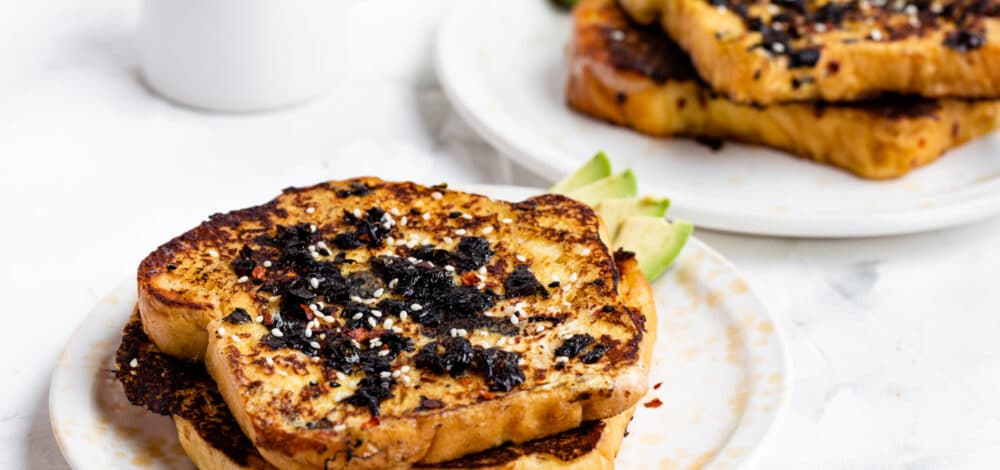 Recipe Serves
4
Minutes Prep
5
Minutes Cook
15
Total Minutes
20
Difficulty: easy
Ingredients
3 eggs
⅔ cup whole milk (or sub plain dairy-free milk)
1 package Annie Seaweed Snacks, crushed into flakes
1½ tablespoons white miso paste
1 garlic clove, minced
1 tablespoon low-sodium soy sauce
½ teaspoon crushed red pepper, to taste
4 thick slices Challah bread (or another light and fluffy bread)
2 tablespoons unsalted butter, divided (or sub vegan butter)
Toppings: sliced avocado, crushed Seaweed Snacks, sesame seeds, crushed red pepper
Method
In a shallow dish, whisk together the eggs, milk, Seaweed Snack powder, miso, garlic, soy sauce, and crushed red pepper until smooth.
In a large skillet, melt half of the butter over medium heat. Press 2 slices of bread into the egg mixture to soak for 30 seconds per side.
Place the soaked bread slices into the hot skillet and sear for 3 to 4 minutes per side, or until nicely browned. Remove from the skillet and repeat with the remaining toast.
Serve hot with toppings of your choice