Seaweed Crisp Crostini with Sesame Sweet Pea Hummus
Packed with crunch and flavor, these crowd-pleasing crostinis make the perfect appetizer for any occasion.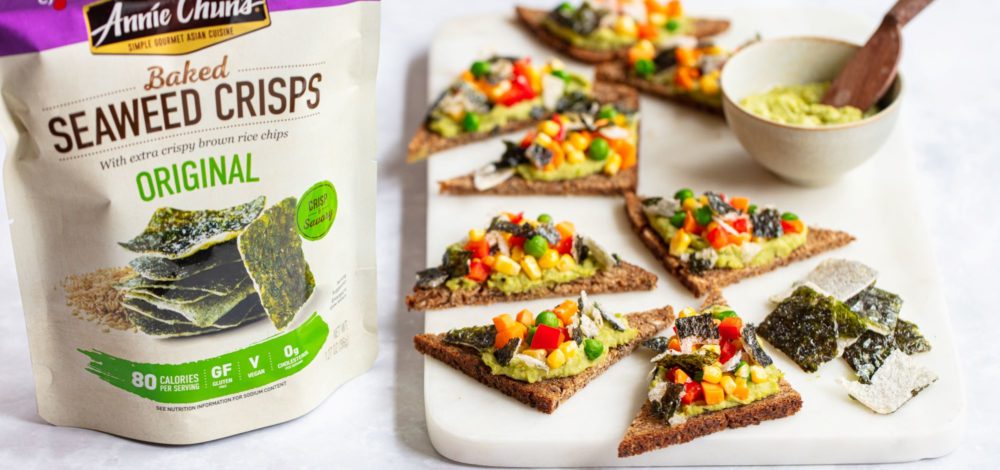 Recipe Serves
4
Minutes Prep
15
Minutes Cook
5
Total Minutes
20
Difficulty: easy
Ingredients
2 tablespoons toasted sesame oil
1 cup frozen sweet peas
1 tablespoon minced garlic
1 (15 ounce) can chickpeas, drained
3 tablespoons tamari or soy sauce
2 tablespoons tahini sauce
2 tablespoons fresh lime or lemon juice
4 slices crusty multigrain bread, toasted
¾ cup frozen mixed vegetables, thawed
½ peeled and pitted avocado, sliced (optional)
½ cup Annie Chun's Baked Original Seaweed Crisps
Method
Heat the oil in a medium skillet over medium-high heat. Add the peas and garlic and cook until the garlic is fragrant, about 2 minutes, stirring occasionally.
Transfer the pea mixture to a food processor along with the chickpeas, tamari, tahini, and lime juice and process until very smooth, about 2 minutes. Refrigerate extra hummus up to 5 days.
Slice the bread in half diagonally to make 8 triangles. Spread each one with about 1 tablespoon of hummus. Top each crostini with avocado (if using), and 1 tablespoon of the mixed vegetables.
Break the Seaweed Crisps into crumbles, sprinkle over the crostini and serve.
Recipe courtesy of Familystyle Food