Asian Chicken Noodle Soup
Chicken noodle soup is a comfort food that never fails to nourish the soul and Annie Chun's rice noodles lend the perfect texture for this slurp-worthy recipe.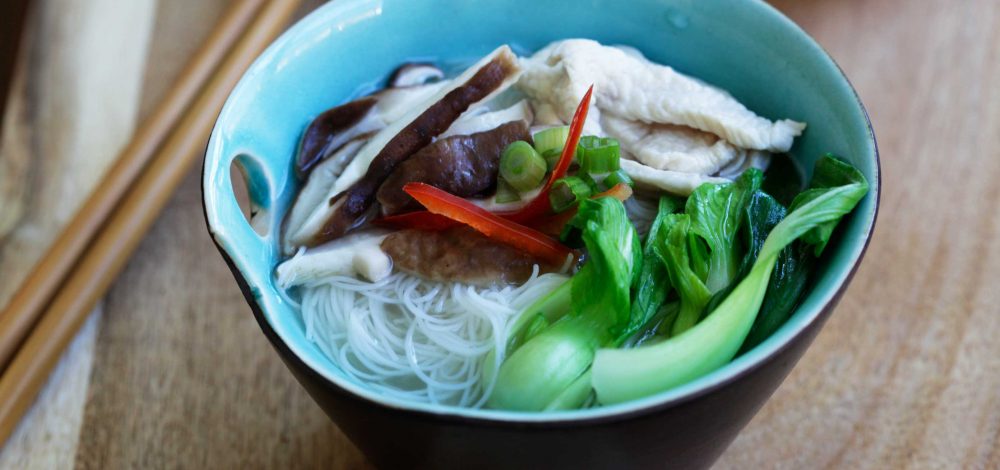 Recipe Serves
4
Minutes Prep
15
Minutes Cook
5
Total Minutes
20
Difficulty: medium
Ingredients
12 oz. skinless and boneless chicken breast
1 tablespoon corn starch
3 cans (14.5 oz.) chicken broth
3 cups water
1 box (3.5 oz) fresh Shiitake mushroom
8 oz. bok choy, sliced
½ teaspoon salt or to taste
1 tablespoon chopped scallions
Method
Soak the Annie Chun's Rice Noodles in hot water for 8 minutes. Drain and set aside. Cut the chicken breast into bite-sized pieces. Coat the chicken with corn starch and set aside.
Heat up a soup pot on medium heat, add the chicken broth and water. Bring the broth to boil and add the chicken, Shiitake mushroom and bok choy. Cook for 1-2 minutes or until the chicken is cooked through. Add the rice noodles and salt, stirring continuously. Turn off heat and divide the noodle soup into four (4) bowls. Garnish with scallions and serve immediately.