Miso-Glazed Eggplant Noodle Bowl
Get your eggplants ready for this soft and creamy miso-glazed eggplant noodle bowl.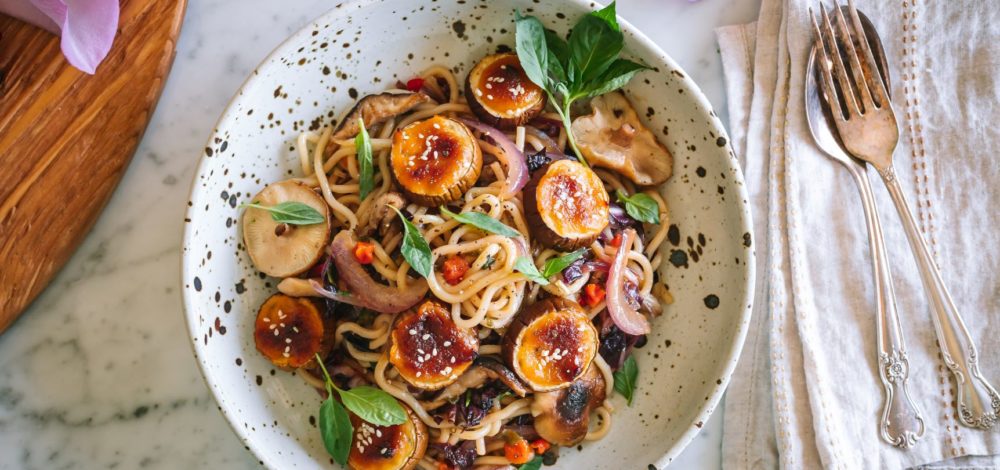 Recipe Serves
2
Minutes Prep
10
Minutes Cook
25
Total Minutes
35
Difficulty: easy
Ingredients
1 tablespoon mellow white or yellow miso
1 tablespoon rice vinegar
1 teaspoon honey
1 Japanese eggplant, sliced into rounds
1 teaspoon white sesame seeds
1 tablespoon vegetable oil
¾ cup sliced red onion
¾ cup sliced red cabbage
½ cup sliced shiitake mushrooms
2 packs Annie Chun's Yakisoba Noodle Bowls
Basil leaves, for garnish
Method
Preheat the oven to 375°F. Whisk together miso, rice vinegar, and honey in a small bowl.
Spread miso mixture over eggplant slices and sprinkle with sesame seeds. Place on a parchment-lined baking sheet and bake for 20 minutes.
Heat vegetable oil in a skillet over medium heat. Add onion, cabbage, and mushrooms and sauté until onions are tender, about 5 minutes.
Cook noodles according to package directions and toss with the included sauce packet.
Transfer noodles and vegetables to plates. Top with miso-glazed eggplant and basil leaves.