Chilled Udon Noodles with Sesame Garlic Dressing
Crunchy, chewy, and refreshing – chilled udon noodles are the perfect way to cool off on a hot day!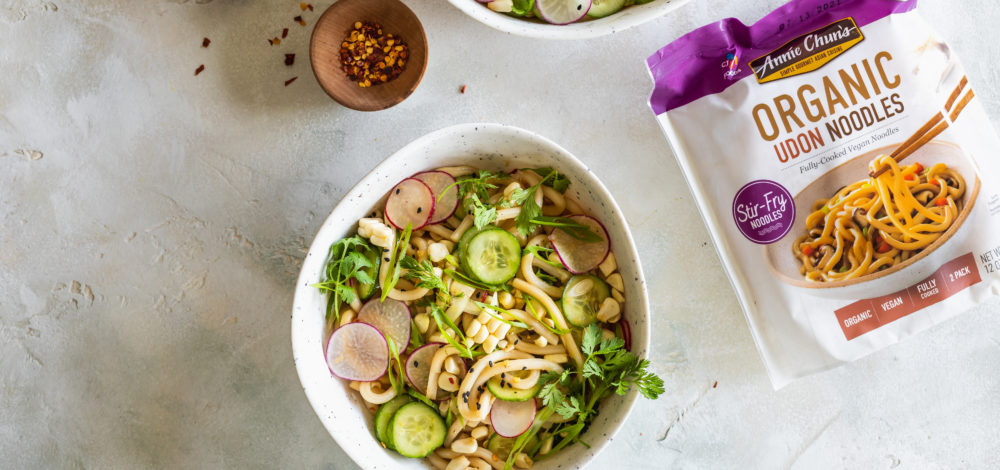 Recipe Serves
2
Minutes Prep
20
Minutes Cook
2
Total Minutes
22
Difficulty: easy
Ingredients
2 packs Annie Chun's Organic Udon Noodles
1 clove garlic, minced
1 teaspoon ginger, grated
1 teaspoon coconut sugar or brown sugar
¼ teaspoon crushed red pepper flakes
Zest and juice of 1 lime
1 tablespoon rice vinegar
1 tablespoon sesame oil
1 cup thinly sliced cucumber
1 cup thinly sliced radish
1 cup corn kernels
1 cup thinly sliced radish
2 scallions, chopped
¼ cup cilantro leaves
Salt and freshly ground pepper, to taste
1 teaspoon black sesame seeds
Method
Boil Udon Noodles according to package directions. Drain and rinse with cold water. Set aside.
To make the dressing, whisk together garlic, ginger, sugar, red pepper flakes, lime zest, lime juice, rice vinegar, and sesame oil in a small bowl.
Add noodles, dressing, cucumber, radish, corn, scallions, and cilantro to a large mixing bowl and toss to combine. Season to taste with salt and pepper and toss again.
To serve, divide the noodles and vegetables into two bowls. Sprinkle with black sesame seeds.