Grilled Portobello Mushroom
Perfectly bite-sized portobello mushrooms, grilled and stuffed with savory bruschetta for your next summer cookout.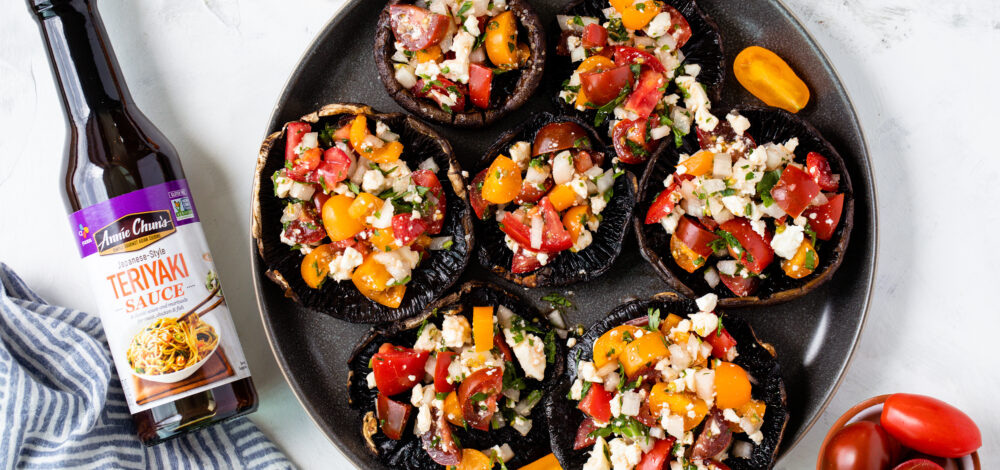 Recipe Serves
6
Minutes Prep
5
Minutes Cook
10
Total Minutes
15
Difficulty: easy
Ingredients
6 large portobello mushroom caps, stems removed
Olive oil, for brushing
¼ cup Annie Chun's Teriyaki Sauce, plus more for serving
1 pint cherry tomatoes, diced
¼ cup minced sweet onion
¼ cup fresh basil, minced, plus more for serving
½ cup crumbled feta cheese
Salt and pepper to taste
Method
Lightly grease grill grates with oil and preheat the grill to medium-high.
Brush the mushroom caps with olive oil and teriyaki sauce on both sides. Sprinkle with salt.
Grill the mushrooms for 5-7 minutes, flipping halfway through, until softened and lightly seared.
Meanwhile, in a small bowl, combine the tomatoes, onion, basil, feta, salt and pepper to taste.
When mushrooms are done, arrange them stem side up on a serving platter and fill each cup with the tomato mixture. Drizzle with more teriyaki sauce and sprinkle with basil.