Lemon Chickpea Rice Bowls
Filled with nourishing ingredients like chickpeas, broccoli, brown rice, and nuts, this fresh bowl will keep you full and energized all day long! Perfect for meal prep and easy weeknight dinners.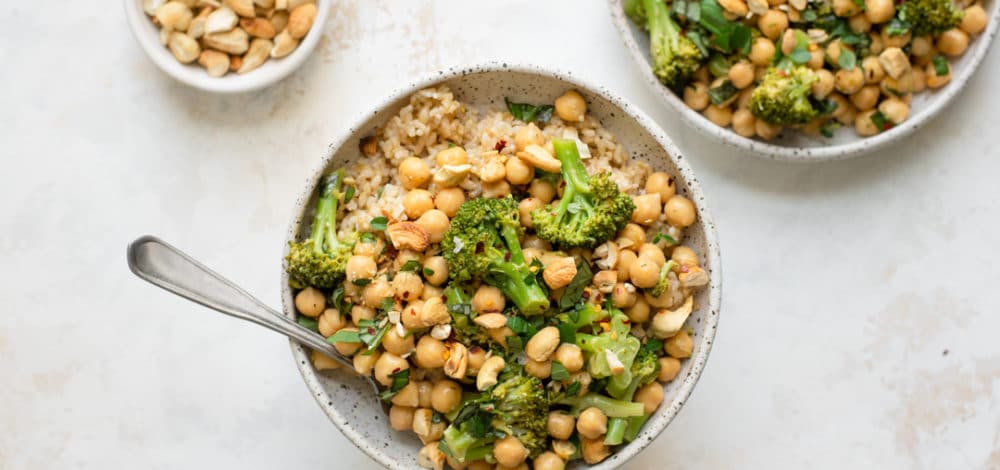 Recipe Serves
4
Minutes Prep
15
Minutes Cook
36
Total Minutes
51
Difficulty: easy
Ingredients
3 cups cooked chickpeas (2-15 ounce cans), reserve liquid
1 bunch broccoli (2-3 crowns), cut into florets and tender part of stems diced
¼ cup chopped fresh basil
4 packs Annie Chun's Sprouted Brown Rice
⅓ cup extra virgin olive oil
¼ cup liquid reserved from chickpeas
¼ cup fresh squeezed lemon juice
2 cloves garlic, minced
1 teaspoon dried oregano
½ teaspoon dried sage
½ teaspoon dried thyme
½ teaspoon salt
½ teaspoon red pepper flakes
1 teaspoon sugar
½ cup toasted cashews
Fresh herbs to garnish (basil, thyme, or oregano)
Method
Add an inch or so of water to a pot with a steamer insert and bring to a boil. Add the broccoli florets and stems and steam for 4-6 minutes, or until the broccoli reaches desired tenderness.
Drain the chickpeas, reserving the liquid and add them to a mixing bowl along with the steamed broccoli.
Add olive oil, liquid from chickpeas, lemon juice, garlic, dried oregano, dried sage, dried thyme, salt, red pepper flakes, and sugar into a mixing bowl. Using an immersion blender or upright blender, blend until mixed and emulsified. Add the blended dressing to the chickpeas and broccoli along with the basil. Toss to combine and add salt and pepper to taste. Let marinate for at least 30 minutes, or overnight in the fridge.
Toast cashews in the oven at 325 ºF for 5-8 minutes, stirring halfway through.
To serve, cook Annie Chun's Sprouted Brown Rice according to package directions and transfer into bowls. Top with the marinated lemon chickpeas and broccoli and garnish with toasted cashews and fresh herbs.
The marinated chickpeas and broccoli can be enjoyed warm or cold!