Sweet Potato Tempura Udon
Tempura lovers, this recipe is for you! Imagine a flavorful miso broth base and chewy udon noodles loaded with crispy and creamy sweet potato tempura.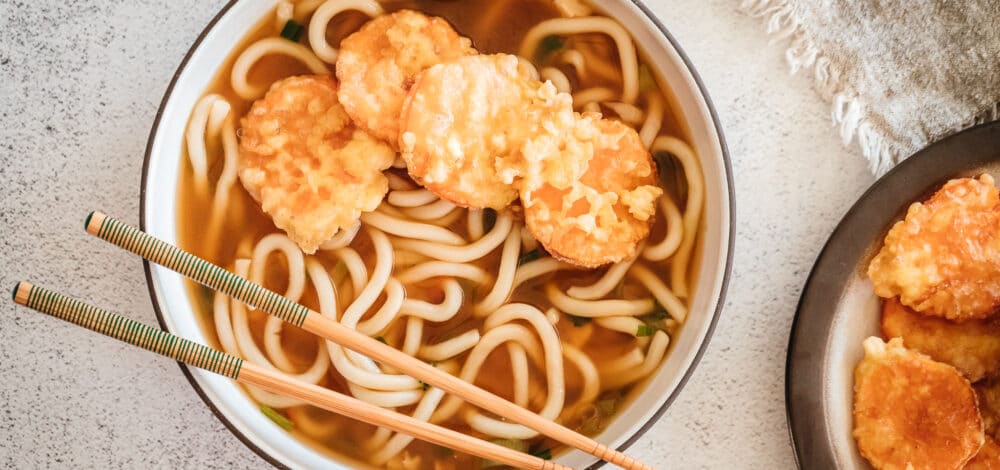 Recipe Serves
4
Minutes Prep
15
Minutes Cook
10
Total Minutes
25
Difficulty: easy
Ingredients
2 eggs
½ teaspoon salt
¾ cup plus 3 tablespoons ice water
¾ cup plus 1 tablespoon flour
Vegetable oil for frying
1 sweet potato, peeled and sliced into 1/8-inch rounds
4 packs Annie Chun's Miso Soup Bowls
Method
Beat eggs in a large bowl until frothy. Mix in salt, ice water, and flour until just incorporated. Batter should still be lumpy.
Pour about 2 inches of oil in a saucepan and heat to 350ºF.
Pat sweet potato slices dry on both sides with a paper towel. Dip a few slices in the batter, letting excess batter drip back into the bowl and fry until golden brown, turning once, about 2 minutes per side. Lift out with a slotted spoon and drain on paper towels. Sprinkle lightly with salt. Repeat with remaining sweet potato slices.
Heat the miso soup bowls according to package directions and divide equally into 4 bowls.
Top each soup bowl with a few pieces of tempura, and serve the remaining tempura on the side with soy sauce or other desired dipping sauce.