Shrimp Noodle Salad
This cold Shrimp Noodle Salad is tasty, refreshing and perfect as a light lunch. Flavored with Annie Chun's Soy Ginger Sauce and Go-chu-jang, it's savory with a hint of heat.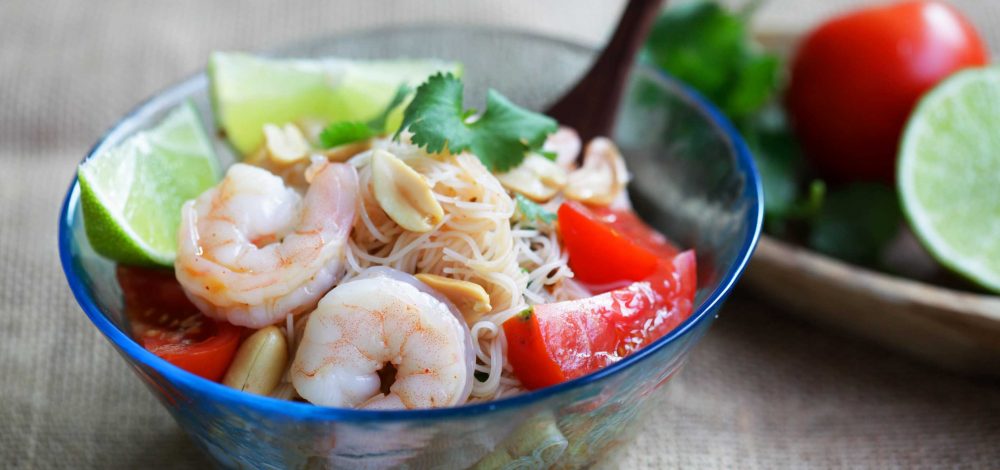 Recipe Serves
4
Minutes Prep
10
Minutes Cook
10
Total Minutes
80
Difficulty: easy
Ingredients
8 oz. peeled and deveined shrimp

2 tablespoons lime juice

2 tablespoons sugar

2 tablespoons roasted peanuts

¼ cup chopped cilantro
Method
Bring 4-5 quarts water to a boil. Add the Annie Chun's Rice Noodles and boil for 3 minutes or until tender, stirring occasionally. Drain and rinse under cold water and set aside.
Bring another pot of water to boil, cook the shrimp thoroughly. Drain and set aside.
In a mixing bowl, combine the Annie Chun's Soy Ginger Sauce, Annie Chun's Go-chu-jang, lime juice and sugar together. Stir to mix the dressing well. Toss the rice noodles and shrimp with the dressing. Top with the roasted peanuts and cilantro. Chill in the refrigerator for 1 hour. Serve cold.