Garlic Sesame Noodles With Crispy Rice
A gluten-free meal made with simple pantry-friendly ingredients! These garlicky noodles are great as a quick snack, side, or as a meal on its own.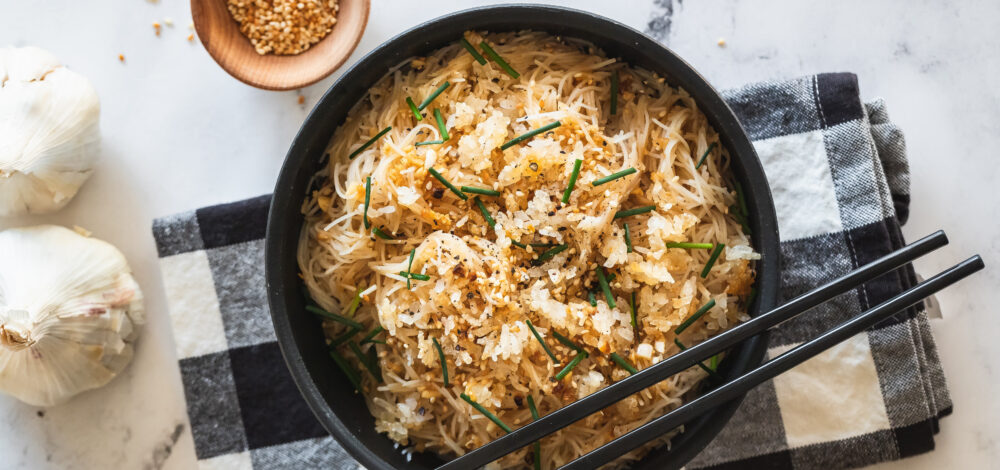 Recipe Serves
4
Minutes Prep
5
Minutes Cook
15
Total Minutes
20
Difficulty: easy
Ingredients
1 tablespoon vegetable oil
½ cup leftover cooked rice
4 clove garlic, minced
Pinch of salt
1 pack Annie Chun's Maifun Rice Noodles
3 tablespoons soy sauce
2 tablespoons rice vinegar
1 tablespoon toasted sesame oil
1 tablespoon honey
Toasted sesame seeds, for garnish
Chopped chives, for garnish
Method
Heat oil in a large skillet. Add rice and cook until golden and toasted, stirring occasionally, about 5 minutes. Add 1 minced clove of garlic during the last 1-2 minutes of cooking. Season with salt and remove from the pan. Set aside.
Cook noodles according to package directions. Drain and rinse in cold water. Transfer to a mixing bowl and set aside.
In a small bowl, whisk together the soy sauce, vinegar, sesame oil, honey, and 3 cloves of minced garlic.
Heat the skillet over medium heat. Add the sauce mixture and bring to a gentle simmer. Cook for 1 minute.
Pour the mixture over the noodles and toss gently to combine.
Transfer to bowls and top with crispy rice, toasted sesame seeds, and chives.